February 2014: 5th anniversary of our work  with Magento
It's now 5 years since we made the decision to adopt and invest in Magento as the e-commerce platform we offer to our clients. This decision was existential in the fact that at Screen Pages all we do is offer e-commerce services and we only use one platform to deliver them. In a sense, it was an all or nothing decision and once we'd made that decision to marry, we knew in advance that we'd have to embrace it wholeheartedly, commit it to it thoroughly, invest in it significantly and work with it through thick or thin, health and in sickness – perhaps not forever, but at least for a long time. (It's unthinkable to just do a bit of Magento or offer to use it on one project – that's a recipe for disaster.)
Confronted by the need to invest in a new platform: the software we were using at the time was not attracting adequate investment and the world of e-commerce was evolving swiftly.
Why we chose Magento in 2009
Having conducted a desk and paper exercise, taken due diligence from a retailer then using Magento 1.2 (with sales of over £1m per annum) as well as formally meeting Roy Rubin (then CEO of Varien, as the business was then called), we commenced our first projects in early 2009. We decided upon Magento because it offered the best price/performance of the available e-commerce platforms, it offered full customisation, bespoking & integration (required by our clients) and, if you wrote down all the features and functions needed for a "best practice" e-commerce website, it had them or they were available as extensions (or failing that, could be customised). Plus, it was "open source", so businesses had more control and portability.

One of those early clients, Christopher Ward, has evolved over time and is now on Magento Enterprise, seeing its online sales more than double in that time.
At the same time, we invested in new open source development practices and software, new operating system and server configurations as well as in building relationships and partnerships with a whole new universe of businesses and complimentary service providers.  Not least amongst these was Varien itself. Magento is now part of eBay and has evolved considerably over time: we have worked hard to foster relationships with Magento's management, commercial, technical and product marketing teams to ensure that our joint clients receive best advice and we are well supported in our undertakings to them.
Importantly, many of our staff who were experienced in one type of e-commerce service delivery have bravely acquired new skills and remain the backbone of Screen Pages' technical and project teams.
Many of our more successful clients chose to migrate to the new world with us, including Bella di Notte, Donald Russell, the Real Flower Company, the RSPB and Sportswoman. One went elsewhere, then came back: QC Supplies.
Magento has evolved in those 5 years
Looking back at the software itself, we have seen Magento become a more reliable, capable and scalable platform as well as developing the largest customer base of any e-commerce software platform in the world. We have seen the evolution of Community Edition from version 1.2 to 1.8 and the successful introduction of Magento Enterprise (now at version 1.13) – a risk in itself, as the early success of Magento was down in part to its "open source" and unlicensed (read "free") nature. It bears testimony to the quality of the product that its customers would now pay $15,000 per annum.
Although we have Community Edition clients, our preference is to work with Magento Enterprise. It has better scalability, configuration  and performance options making it suitable for e-commerce operations with more traffic and sales, larger product catalogues, multiple or international stores (including languages, currencies and brands). There are certain marketing capabilities which some clients require (trigger emails, loyalty schemes, targeting, private sales etc). Above all, though it is backed by a considerable product development and support organisation and budget (backed in turn by the considerable eBay balance sheet). In a word, if you're serious with revenues over £1m, we'd recommend Magento Enterprise (see official video).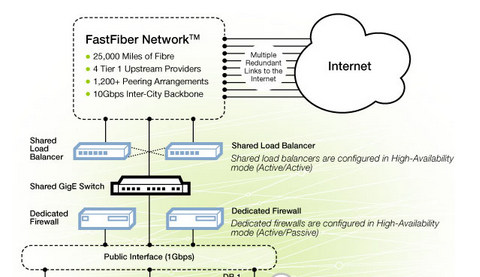 It's easy to look at Magento simply as a static software service. It's not. We've learned the hard way that one of the most challenging aspects to building successful Magento e-commerce operations is to understand how it is configured, deployed, hosted and updated – overlaid by client-specific factors such as trading volumes and characteristics. We've evolved from using Amazon cloud, to designing a self-managed cloud-based environment and settling on a private network at Peer1 (a Magento Platinum partner), based on its Magento managed service offering, but pre-configured to meet our client needs.  This evolution reflects the learning curve and investment required to offer the high performance, flexibility and scale that our kinds of clients need.
Magento's popularity, however, means that many web developers and companies have adopted the Magento platform without investing in the proper planning, organisation and support that e-commerce software can require. Some merchants have commissioned their websites on the "cheap and cheerful" Magento bandwagon: when the websites are live, the problems begin. It's easy to build a website if you don't have to support it. Common short-comings would include critical hygiene factors such as consideration for performance and scaleability, a proper support and maintenance service (with ongoing handholding), professional development standards and code management, long-term attention to client's needs for flexibility and ease of maintenance as well as implementation of security guidelines for data protection.
We have developed processes to migrate existing Magento websites and provide ongoing support and development to clients who need better support and service.

Because of our success over a period of time, Screen Pages was honoured with a Magento Partner Award at Magento's global conference in Las Vegas in 2013: based in part on its exceptional client satisfaction ratings, its success in securing and implementing Magento Enterprise projects and its number of certified developers.
In April 2013, Screen Pages qualified for Gold partnership based in part on its exceptional client satisfaction ratings, its success in securing and implementing Magento Enterprise projects and its number of certified developers.
Our work with Magento has been recognised in the industry. The fashion start-up Atterley Road  was picked as one of Vogue's Top 10 retail websites – a massive honour. Two clients – Loake Shoemakers and This Works – were honoured at the ECMOD Direct Commerce awards in April 2013. Loake Shoemakers received the award for the best British menswear brand (in the £5m-£30m category) and This Works received the award for Best Exploitation of Technology (for businesses with sales up to £25m). We've been invited to speak at Magento Live in the UK on two occasions. Working hard with the Magento community, we have forged good technical and commercial relationships with other complementary software and service providers, whether it's module or extension providers (Sweet Tooth, Predictive Intent, DotMailer, Aheadworks, Flint, Ebizmarts, Mageworx, WebShopApps and many more), or payment gateways such as Sagepay or Verifone.   We've also done a fair bit of Magento customisation, whether it's to offer particular delivery, customer service or fulfilment options, represent and navigate product catalogues in a specific way – let alone customising layout and user experience. We've learned there's a wrong way and a right way to do this kind of work, in a way which protects the "core" of Magento as well as the interaction of 3rd party modules and future upgrades.
Many of our clients are operating multi-channel businesses or distributed (or sophisticated) fulfilment, so integration has often been on the agenda:  most actively traded websites are integrated with back office systems. We have worked with systems such as SAP & Navision at one of the end spectrum, to specialist mail order/direct commerce packages such as MNP & Khaos, to EPOS/retail systems such as Eurostop as well as 3rd party fulfilment/warehouse management houses: over 30 different back office systems all told.
We have now delivered a lot of Magento projects
Now, 5 years on, we have implemented over 40 Magento Community Edition websites, over 20 Enterprise Edition websites and actively manage about 50 e-commerce clients,  Our clients include fashion and lifestyle brands (such as Atterley Road, Begg Clothing, Choc-on-Choc, Christopher Ward Real Flowers and Rodial), reputable charities and not-for-profit organisations (such as the RSPB, BHF, the Bodleian Libraries, Kew Gardens and Historic Royal Palaces), established and trusted brands (such as Loake and Donald Russell), well-known mail order businesses (such as Micro-Scooters and Van Dal), trade and business suppliers (such as Demco, Snap On, Watco and Aston & Fincher). This range provides us with broad insight and drives constant innovation and improvement as online evolves. [See our Portfolio for a showcase of our e-commerce work over the 5 years]
Combined, online shops that we run receive over 100,000 visitors per day (and typical configurations have been tested up to 500,000 per day). In total, our clients take several thousand orders per day on average. Our client websites perform well:  they convert at an average of 3%. They are integrated with many different back office systems and they all run fast, reliably and securely.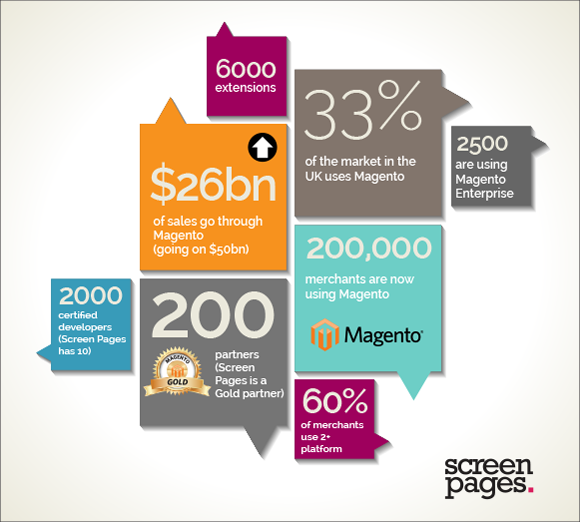 Magento itself is now unquestionably the clear market leader in its sector and, you might argue, the most successful e-commerce platform on the planet. 33% of the market in the UK uses Magento, over 200,000 merchants worldwide (2,500 of which are using Magento Enterprise). $26bn of sales go through Magento (going on $50bn, given growth projections). There are 6000+ extension, 2,000 certified developers, 200 partners and, to boot, Magento is still searched for in search engines more than "e-commerce" and its website had 13m visitors in 2013.
Our journey with Magento has been hard, expensive but ultimately rewarding. Screen Pages has re-invented itself – so to speak – under the bonnet, whilst still offering the same proposition to its clients: best practice e-commerce, professionally delivered and supported.