ABOUT US
Screen Pages provides eCommerce and value-added marketing services to multi-channel retailers, B2B and mail order companies
Founded in 1997, Screen Pages has grown steadily over the years and is now respected as a leader in its niche. Screen Pages leads the way in exploiting eCommerce best practice for the benefit of smaller businesses delivered with an agency style: its focus on websites that sell products, analysing site performance and usability, improving conversions and maximising sales performance is all about delivering an effective online channel for your products. Screen Pages' websites are database driven, integrated, eCommerce business websites that compare well with the high street giants.
The company is privately owned and based in Wisley, Surrey, at the intersection of the A3 and the M25. Screen Pages has multi-disciplined teams and its Directors – with decades of experience in technology services and general management – are used to working with owner-managers and board directors. These groups are supported by industry specialists in eCommerce, integration, design, marketing and search engine optimisation and supplemented by a first-class network of partnerships, trade relationships and contacts that can add value to your business.
Screen Pages takes a long term view of our client relationships: it's not just about designing and building a new website and we expect to be working together for many years. After you launch, we provide dedicated account management, ongoing hand-holding and support and organise ourselves around your site as it evolves. Our teams are at the ready for fast turn-around on small changes as well as for large-scale site extensions and overhauls.
Our clients are based throughout the UK and include some of the best-performing niche businesses on the internet today.
Online retail is all we do. For over 20 years we've learned a lot from our clients, from our partners, from our experience, from the careful analysis of over 70 eCommerce websites. We are passionate about your sales and have evolved a consultative, analytical, creative, marketing-led approach which will support your aspirations.
100% bespoke Magento websites that enhance your brand & sell your products
Dedicated eCommerce experience going back to 2000
Full marketing, analytical & technical consultative approach tailored to business people
Emphasis on conversion ratios, eCommerce performance and sales effectiveness
Focus on long-term relationships with niche brands, retailers & businesses trading online
Professional, well-managed company (20+ staff)
Complete range of offerings: design, development, hosting, support & updates
Strong network of industry relationships & complementary partnerships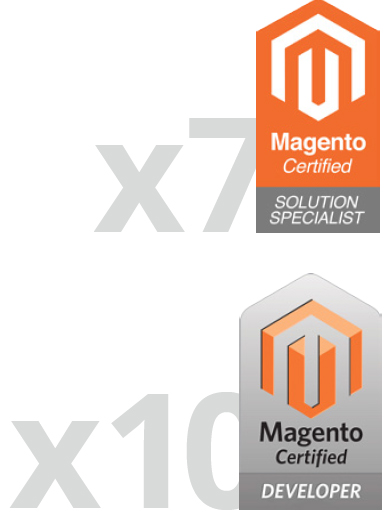 For information on how we process the data that you give us, please see our privacy policy.
4 The Courtyard, Wisley Lane, Surrey, GU23 6QL