BISLEY DIRECT
Bisley is the largest manufacturer of steel office furniture in the U.K.
Bisley Direct, the premium online storage provider, appointed Screen Pages Ltd in May 2017 to design and develop two new Responsive websites. The sites were built on Magento 2.1 and launched on September 12th. They can be visited at
bisleydirect.co.uk
and
filingcabinets.co.uk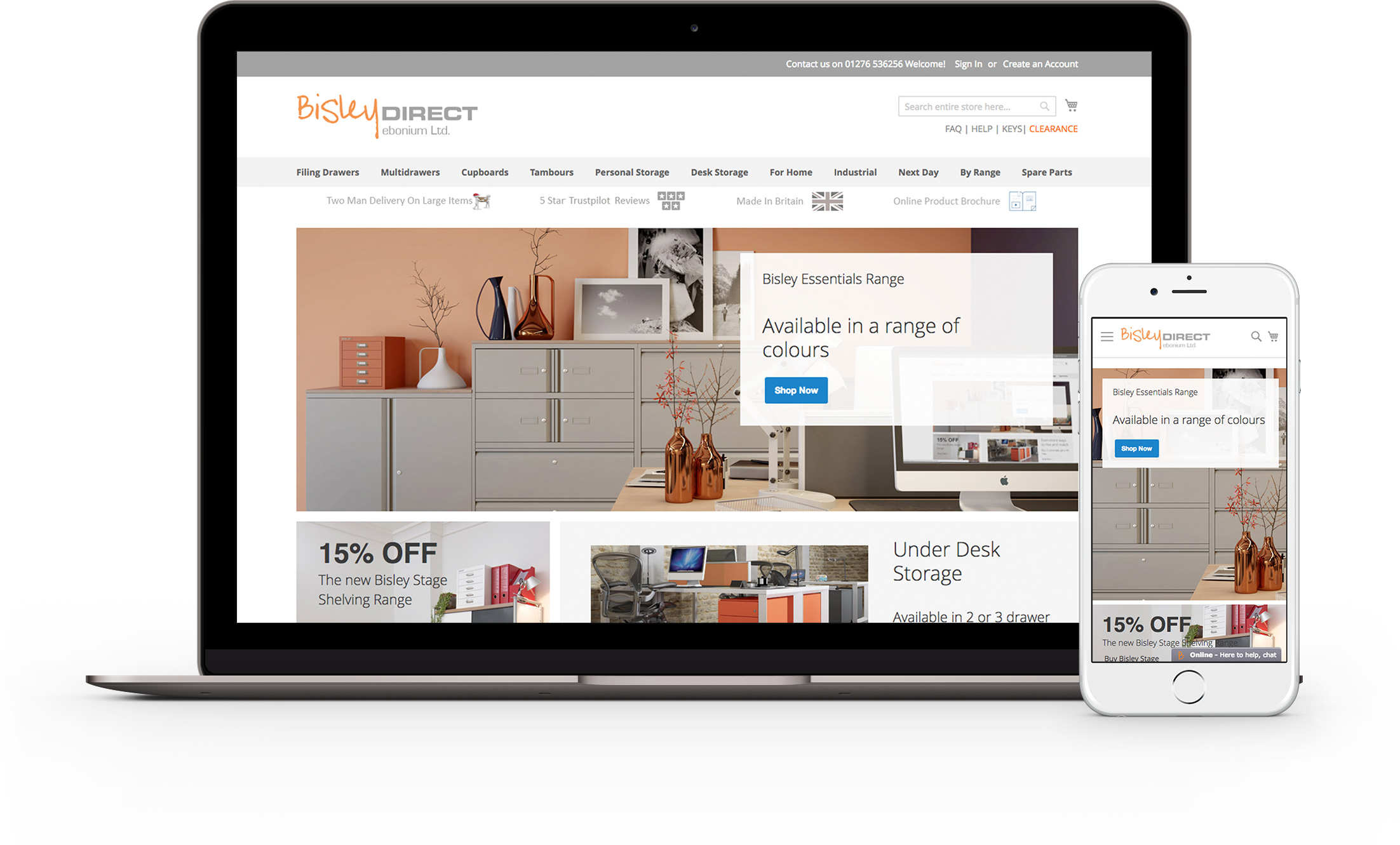 Founded by Graeme Winship, an experienced professional in operations and logistics and formerly Logistics Director at Bisley Office Furniture, Bisley Direct offers a wide range of filing and storage solutions for business, home office and the warehouse, backed by a premium delivery service.
FilingCabinets.co.uk was developed to offer an enhanced range of UK manufactured storage products, desking and seating. With a wide range of products they can now offer a one stop shop for office solutions in the UK.
The new Magento 2.1 website's capabilities include:
Responsive Redesign on Magento 2.1
Migration of customer, order & product data from Magento 1 to Magento 2
Integration with the SagePay, PayPal & Amazon Pay payment gateways
Integration with the Mailchimp email marketing platform
Integration with the Klevu search platform
Integration with the PCA Predict address lookup service
Integration with the TrustPilot reviews system
"Our business was expanding rapidly on Magento and we recognized that we needed to deliver an improved user experience for our customers who are increasingly accessing the site from mobile devices. We appointed Screen Pages – a Professional Magento Solution Partner – to build two Responsive websites on Magento 2.1. We have been exceptionally pleased with the results so far: the sites are running smoothly, quickly and we can see positive results already."
Graeme Winship, Managing Director of Ebonium
"Bisley Direct is a great example of a successful owner – managed business that has grown over the years, developed with a clear focus and sound execution. We are pleased to have been able to assist them in their growth plans by delivering two best practice eCommerce sites for their customers on the Magento 2 platform, and all that in under 3 months."
Sarah Willcocks, CEO at Screen Pages
For information on how we process the data that you give us, please see our privacy policy.
4 The Courtyard, Wisley Lane, Surrey, GU23 6QL