Tweet

Mobile accounts for 10% of ecommerce website visits, but converts at nearly half the rate of PC visitors

– iPads and iPhones represent 80% of all mobile web browsing
– Even smaller retailers losing hundreds of thousands of pounds by not understanding the mobile opportunity.
[pull]Screen Pages has released a study on how e-commerce websites are used on mobile devices. The study shows that mobile devices now account for 10% of all traffics, but engagement levels and conversions are significantly lower at nearly half those on PCs.[/pull] 56% of the businesses in the study are running Magento websites. Screen Pages used Google Analytics for analysis and studied over 1.5m visitors to close to 30 websites. None of the websites were optimised for mobile usage.
This week where it was reported that Amazon's sales would approach $2 billion in mobile commerce business and the top 300 mobile e-commerce sites averaged a 105% annual growth rate this year.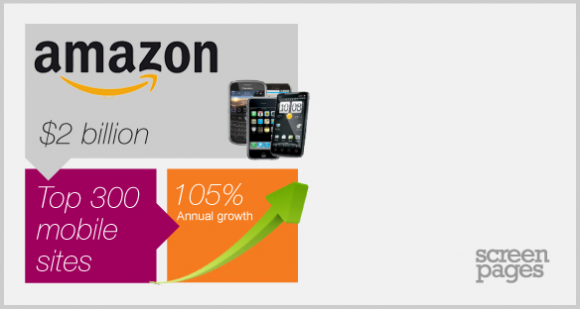 ---
Key findings
10% visits are mobile from mobile devices (although for premium brands targeting a more affluent demographic, there is evidence that this figure can approach 15%.
81% of all mobile visits are from Apple devices (47% are iPad & 35% are from the iPhone). Again, this may be a function of demographics, but clearly shows the popularity of Apple products.
Average bounce rates are lower by 5% (40% vs 35%). Bounce rates are a measure of engagement and show the % of visitors who arrive on a page and leave. Driven by smaller screens and possibly the more demanding mobile user, websites must work harder to engage.
A related measure, pages viewed per visit, is 17% lower (although one fine wine merchant with 000s of fine wines encouraged more browsing than on PCs).
In terms of sales, e-commerce conversion ratios were 41% lower overall – ranging from 13% to 73% lower. However, one luxury brand showed an increase of 30%.
Average order values (AOV) were – oddly – slightly higher on average, with half the sample showing an increase (10 of the sites showing an increase in AOV of 10% or more). Those showing a decrease posted in the range 10-30% less.
---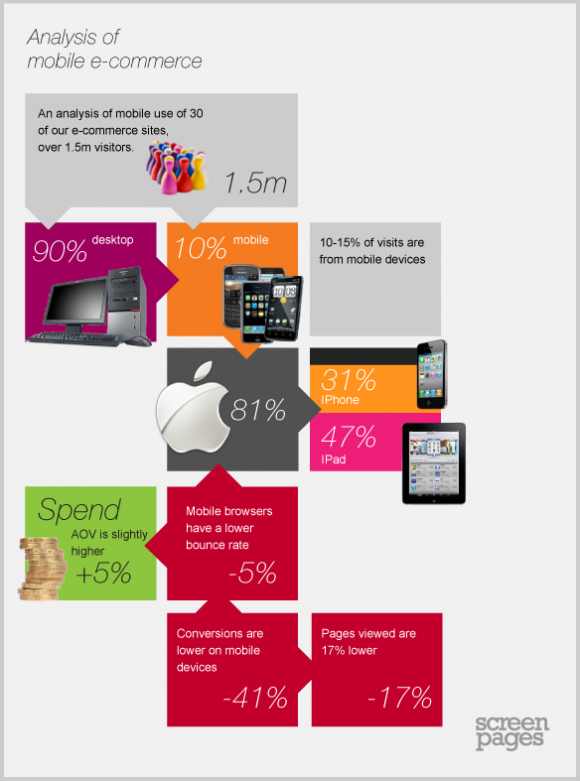 ---
Regarding iPads, it is clear that the benchmarks are much closer to conventional PC behaviours, because most websites can be browsed easily via iPad and the screen sizes are much larger. In some cases, there is a suggestion that consumers "love browsing on iPads" and appear more relaxed about spending from this device.
[pull]"The commercial message here is clear", says Roger Willcocks, director of Screen Pages: "If mobiles are 10% of your business and conversions are 40% lower, on a site with 10,000 visits per day with a conversion ratio of 3% and an average order value of £50, mobile usage can represent a loss in revenue of over £300,000."[/pull]
Tim Leighton-Boyce, e-commerce analyst at CX Focus, says: "With over 10% of visits coming via mobile devices, retailers need to start paying a lot more attention to the mobile experience, starting with email. For example, emails read on mobile devices for one business have increased from 4% to nearly 20% in the last two years. One of the first things to do is to make sure emails are tracked and analysed.
Next is the bigger and even more important challenge of making sure that the site itself works well on mobile devices. Retailers need to take a long hard look at this. Building a mobile-specific web site has some big advantages because it means that you can decide to strip the site down to the essentials and get rid of the extra clutter which works well on a big screen but makes touch-controlled devices hard to use – but the cost of delivering this may not repay the effort.
If businesses can't afford an m.version of their site, they should study their standard site on a mobile device and try to work out where the big problem areas lie, with particular attention to how people to navigate. Small, text based, drop-down menus are not going to appeal. Big, clickable, product images are. Mobiles change the game: scrolling is easy, clicking is ok, typing is difficult.
The bottom line: since people can't judge improvements if they don't measure, they need to get that in place right away and understand the scale of the opportunity."