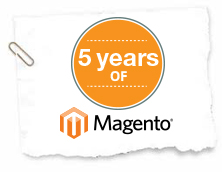 It's now 5 years since we made the decision to adopt and invest in Magento as the e-commerce platform we offer to our clients.
We've written our story and experience so far: how we evolved our business, processes and systems; what versions of Magento we used; what we've learned about hosting and support; the partnerships we've made and the awards we've won.
"Our journey with Magento has been hard, expensive but ultimately rewarding. Screen Pages has re-invented itself – so to speak – under the bonnet, whilst still offering the same proposition to its clients: best practice e-commerce, professionally delivered and supported."
Read the story of our 5 years of Magento here.