Donald Russell, Britain's leading mail order meat supplier, has re-platformed and re-designed its online shop at http://www.donaldrussell.com. The new e-commerce website has been designed and developed by Screen Pages, the e-commerce agency, using Magento.
Based in Aberdeenshire, Scotland, Donald Russell, a royal warrant holder, is a pioneering mail order and online butcher with an acknowledged reputation for quality and customer service. Its range includes all the traditional cuts, including naturally reared beef, pork and lamb, now alongside more contemporary classics such as gourmet seafood, game and veal. Donald Russell has also recently launched a range of desserts and chef made meals which offer the customer a gourmet dining experience in her own home.
Donald Russell has a string internet business with online sales now approaching £10m per annum and an average conversion ratio of 10%.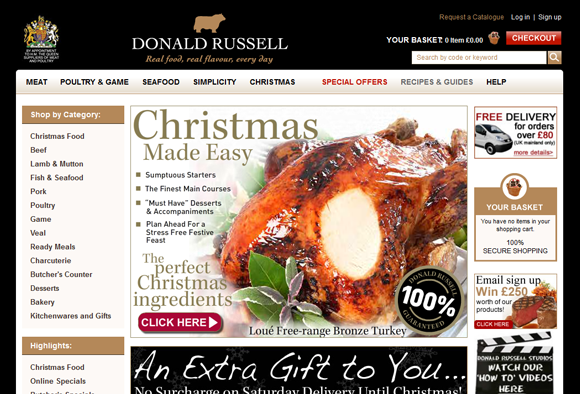 The new website's capabilities, developed in Magento, include:
-      Strong product and cooking photography
-      Easy navigation by product, theme and cooking style
-      Product group, pack and bundle options
-      Recipe section with direct ingredient purchase
-      Active social media integration via a blog, YouTube, Twitter & Facebook
-      Onsite ratings and reviews
-      Personalised recommendations and merchandising via Predictive Intent
-      Sophisticated delivery and promotional regimes (including nominated days)
-      Secure card authorisation with tokens via Commidea
-      Order status and tracking
-      Integration with Navision back office for stock availability, customer transactions and order processing
Gary McDonald, Head of Marketing at Donald Russell, said: "We have been working with Screen Pages since 2006 and the performance of our online channel has steadily improved. Screen Pages has always provided a knowledgeable, reliable and professional service. Now, presented with rapid evolution in online marketing and technology, we are keen to exploit the new opportunities by a better e-commerce platform such as Magento."
Roger Willcocks, director of Screen Pages, said: "Donald Russell has a great product, exceptional customer service, a loyal and passionate customer base as well as very strong marketing and operations – in short, it's a great business. We are extremely proud to be part of its growth and delighted to be partnering with it to re-deploy its website on Magento."