Finisterre, the British technical outdoor apparel brand, has launched a new website and shop at http://www.finisterreuk.com. The new transactional website has been designed and developed by Screen Pages, the e-commerce agency, using Magento.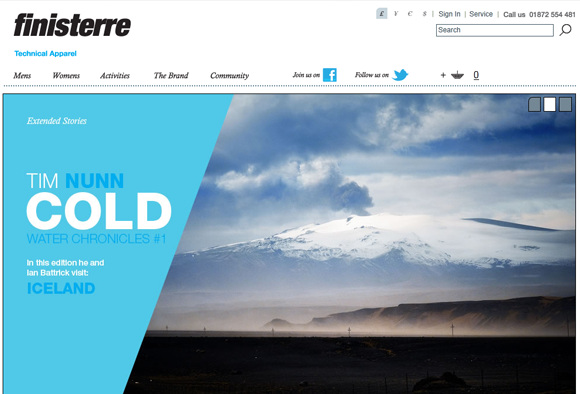 Finisterre is a Cornwall-headquartered outdoor clothing company whose fabric innovations have received several awards. Its product ranges include insulated and waterproof jackets, layered clothing, tops and accessories – many from quality eco-friendly fabrics such as Merino wool. The brand has developed a cult following in its niche and is seen by some as the UK's answer to Patagonia.
Finisterre is enjoying significant sales growth and this investment in its online sales channels will spearhead further expansion.
The new website's capabilities, developed in Magento, include:
- Beautiful, simple creative design
- Compelling and extensive product and lifestyle photography
- Multi-layered navigation (mens/womens, activity, ranges)
- Widespread use of embedded video
- Social media & community engagement (Facebook, Youtube & Twitter)
- Designer notes, fabric & aftercare information
- Filtered selection (price, colour, size etc)
- Cross-sells and up-sells
- Gift vouchers
- Lifestyle blog featuring tips, recommendations and special offers
- Single page checkout with online card authorisation via Sagepay
- Full content management via Magento Administration Panel
- Integration with back office for stock availability and order processing
Ernest Capbert, marketing head at Finisterre, said: "The Finisterre crew has worked really hard and well with the folk at Screen Pages to show off our exciting brand and really excite our customers on the web. Screen Pages people really got what we were about and they've been helpful, responsive and super efficient."
Roger Willcocks, director of Screen Pages, said: "Finisterre has huge potential and we want to help it fulfill its dreams. It clearly has a first-rate brand, excellent customer loyalty, a strong and distinctive product offering and great people to work with. We are proud to be working with the company to build its sales online."
Notes to editors
About Screen Pages
Screen Pages (https://www.screenpages.com) has provided e-commerce and related value-added marketing services to over 200 niche retailers and mail order companies since 1997. Its e-commerce approach blends creative, analytical, marketing and technical services designed to increase a brand's sales online.
Graphics, screenshots available upon request.
Contact:
Roger Willcocks, Director, Screen Pages
T: 01932 333 592
E: roger@screenpages.com