Moss Europe Ltd, one of the founding companies of the British classic car parts industry, has launched a new full function website and e-commerce store designed and developed by Screen Pages, one of the UK's leading Magento e-commerce agencies. The site can be visited at http://www.moss-europe.co.uk/.
Moss' origins date back to the mid 1970's, whilst its parent company Moss Motors, began supplying parts for the MG T-Type back in 1948, making it the world's oldest and largest British classic car parts and accessories specialists.
Moss now provides local, national and export mail order sales to help enthusiasts restore, maintain and enhance their classic cars. Moss operates from 4 branches around the UK and one in Paris, France. Moss stocks over 45,000 parts for the MG range, Triumph TR, Spitfire, Midget & Sprite series as well as the Classic Mini, Morris Minor & Mazda MX-5 ranges.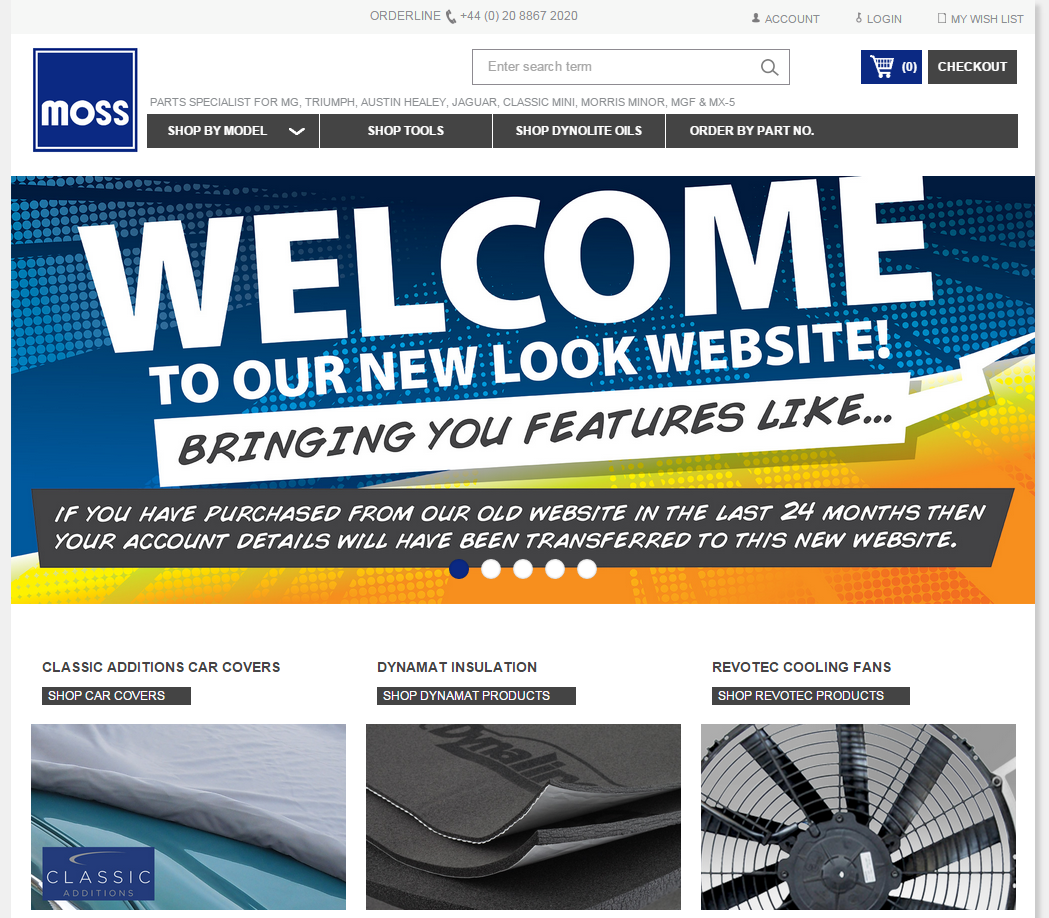 The brief for the new website included re-development using a non-proprietary e-commerce platform (Magento Enterprise), responsive design, better navigation, improved content management, reliable integration with Moss' back office/ERP system to manage the fulfilment of 20,000+ individual products/SKUs.
The chief functional improvements for the new website included:
- Improved and flexible navigation and merchandising options, including clearer categorisation, together with filtering options and cross-sells and up-sells
- Better & easier-to-use search
- A more streamlined checkout
- Retail & wholesale accounts and payments
- Internationalisation options including overseas delivery and currency conversion
- Improved SEO
- Scope for additional content, such as video, fitting instructions & downloadable product material
- Streamlined checkout with debit/credit card & Paypal payment options
- Fast and reliable hosting (at Peer1)
A particular requirement was for "schematic" navigation – exploded line drawings which show groups of related products - which allow customers to visualize parts & their relationships, drill-down for more information and make purchases of groups of products.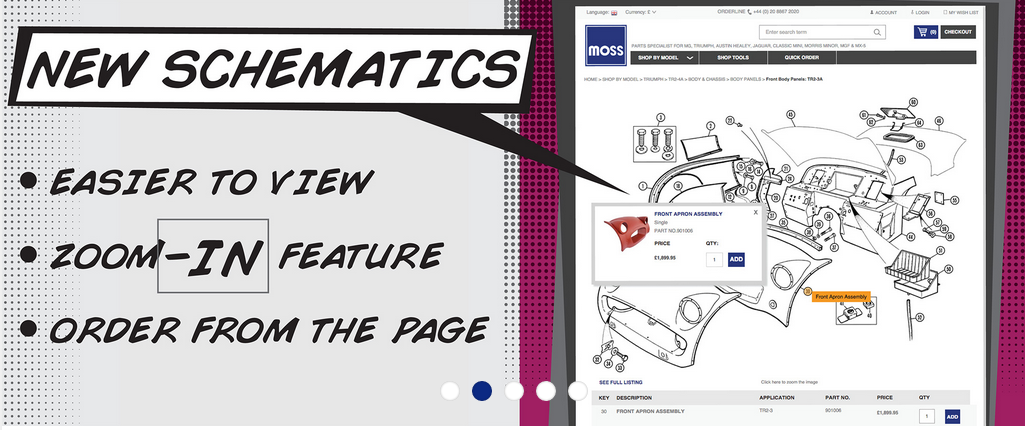 Here's an example of a full schematic for a Mini engine.
Matthew Hutchins, Marketing Manager at Moss Europe, said: "We wanted to implement a next generation e-commerce platform that gave us a lot more flexibility, control and content management – that was Magento. Screen Pages emerged as a professional, dependable agency with a proven track record and strong e-commerce credentials who could demonstrate they could deliver our unique as well as regular requirements."
Roger Willcocks, director at Screen Pages said, "We are very pleased to be working with the Moss. It's a well-established business and a leader in its market supported by loyal customers, good marketing and well-managed execution. We look forward to developing the many opportunities it has for expanding its online sales."