The Royal National Institute of Blind People (RNIB), the leading UK sight loss charity, has re-launched its transactional website, designed and developed by Screen Pages, one of the UK's leading Magento e-commerce agencies. The site can be visited at http://shop.rnib.org.uk.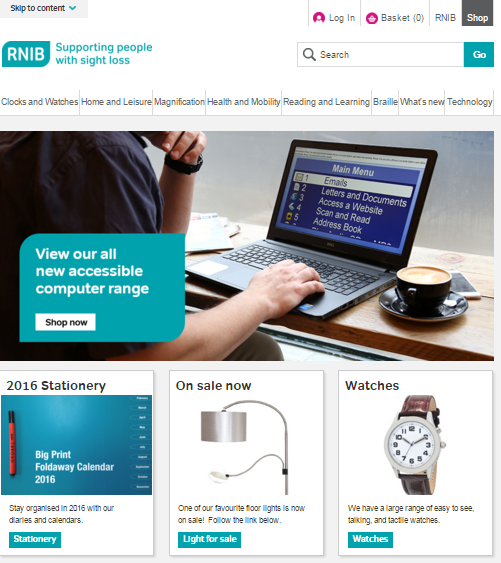 In its last financial year, the RNIB handled over 350,000 sales and support enquiries via its Helpline and provided advice services to over 60,000 blind and partially sighted people. It identified £14.8million in unclaimed benefits and provided over 1,500 people with peer support through its telephone-based Talk and Support groups. It has also supported 647 people to get or keep a job.
The RNIB's online shop offers a wide range of products for home and leisure, health and mobility, reading and learning.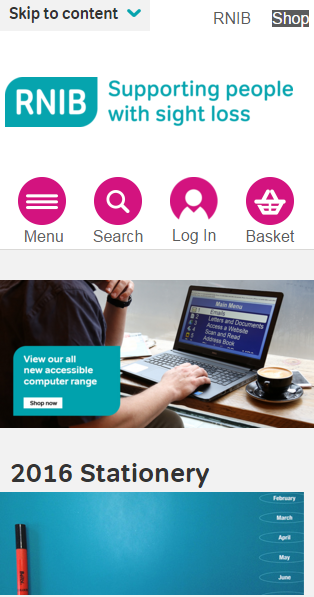 The chief functional requirements for the new website included:
A fully accessible front and back end user interface
A bespoke quoting & ordering process for trade users through the Magento Admin Panel
Multi-location EPOS integration
A streamlined checkout with credit card & Paypal payments
Retail & wholesale accounts
CRM, ERP and OMS integration including order status & customer account credit balances
Integration to PayPal, SagePay and capture of direct debit, pro-forma and on account payments
Integration to Amazon Marketplace
A detailed data gathering process for the Talking Books subscription service seamlessly integrated into the normal checkout process
Complex checkout delivery method support & Admin Panel user override functionality
Search function integration with main RNIB website
Customised bundle & downloadable product support
Donations & gift aid functionality
Fast and reliable hosting (at Peer1)
An important requirement was for accessibility: many of the customers and site administrators are blind or partially sighted.
Terry Hawkins, Head of Sales at the RNIB, said: "We wanted to implement a next generation e-commerce platform that gave us a lot more flexibility, control and content management – that was Magento. Screen Pages emerged as a professional, dependable agency with a proven track record and strong e-commerce credentials who could demonstrate it could deliver the RNIB's unique as well as regular requirements."
Roger Willcocks, director at Screen Pages said, "It's an honour to be working with one of the most important and distinguished charities to help develop its online activities. The RNIB is a well-established charity and we look forward to helping its e-commerce team developing the many opportunities it has for expanding its online sales."