Spring Chicken appoints Screen Pages to re-design & manage its Magento website
Spring Chicken, which provides products and services to help older people and those that care for them, has appointed Screen Pages to support, manager and further develop its website. The site can be visited at http://www.springchicken.co.uk
Spring Chicken, based in Oxford, has a mission to build a company that will make getting older better for everybody: life expectancy has increased by 10 years in the last 60 and Spring Chicken sources the newest and best products from around the world, curates the latest research and the most up-to-date thinking and delivers both products and advice through its website. Its customers are mostly older people who need this service, but it also serves the many people who care for an older person.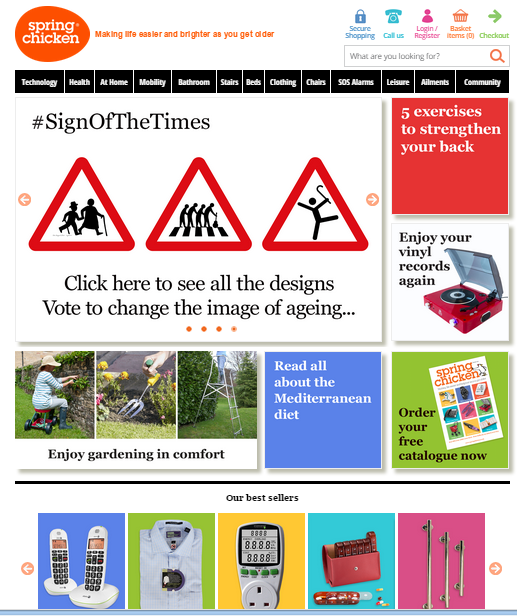 Spring Chicken provides a wide range of "best in class" advice and products including the following popular categories: technology, health care, mobility, home and furniture, clothing and leisure.
With ambitious plans to embrace e-commerce and a need for improved e-commerce guidance and support, Spring Chicken initially migrated its website to Screen Pages in the summer of 2014 for ongoing hosting and support, backed by access to the resources, experience and structured support channels that Screen Pages as a Gold certified Magento partner offers, such as professional support and service for Magento, as well as long-term attention to a client's needs for flexibility and ease of maintenance.
To develop further and optimize its online sales effectiveness, Spring Chicken and Screen Pages' teams re-evaluated the usability, navigation, customer journey and overall site content with a view a few to increasing engagement, boosting marketing effectiveness and sales conversions. Particular effort was taken and training provided to ensure that all aspects of site product, marketing and general website content was under the control of Spring Chicken's marketing teams.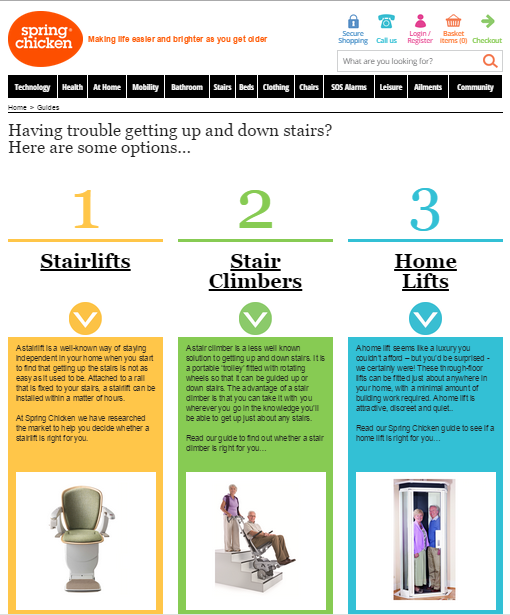 Spring Chicken provides extremely useful content such as buying guides, advice & FAQs
The newly updated website features:
• Clean, simple and easy-to-read "look and feel"
• Responsive design for mobile devices
• Modern and easy-to-use navigation for fast access to chosen products
• A community (blog) featuring advice and guidance
• Buyers' guides and FAQ sections
• Branded landing pages/micro-sites for trusted partners
• Reviews, features & specifications
• Improved hosting &
Anna James, Founder of Spring Chicken, said: "Our business was expanding rapidly on Magento, but we needed access to greater e-commerce and Magento experience backed by professional development and a structured project and support team – as well as sound e-commerce advice. We have been exceptionally pleased with the results so far: the sites are running smoothly, quickly and we can see positive results already."
Roger Willcocks, director at Screen Pages said, "Spring Chicken is a great example of a fast-growing and well-managed business curating a unique & focused set of products and services to a well-defined demographic. It's exciting to work with Spring Chicken's management to help expand its online sales channel to provide the right level of advice, technical resource and management to support its ambitions."