I recently made a purchase on Baker Ross' website (supplies for a children's party) and was impressed by two small pieces of detail: the order confirmation page and a follow-up email two days later.
This is the page after you have completed your order (the "order confirmation page"). As well as the standard communication around order details, it has a discreet reminder why we should shop there (sales reinforcement). Best of all, however, is the "incentive" to create an account (which will create and store the account, which in turn will enable follow-on marketing). The incentive is simply "upgrade for FREE". Whilst I can see that there's no reason on earth why I would pay for a Baker Ross account, it made me  think. The wording and promise is effective and communicates the value of having an account well: convenient shopping, storage of address and other details, follow-on communication around offers and new products [see below].
The site is built in Magento which has a "guest" checkout as standard (the visitor can choose to be a guest), which you can enable/disable via the Magento Admin Panel. There's an extension for placing the above option in the checkout from Commerce Extensions.
Two days later, I received the following email: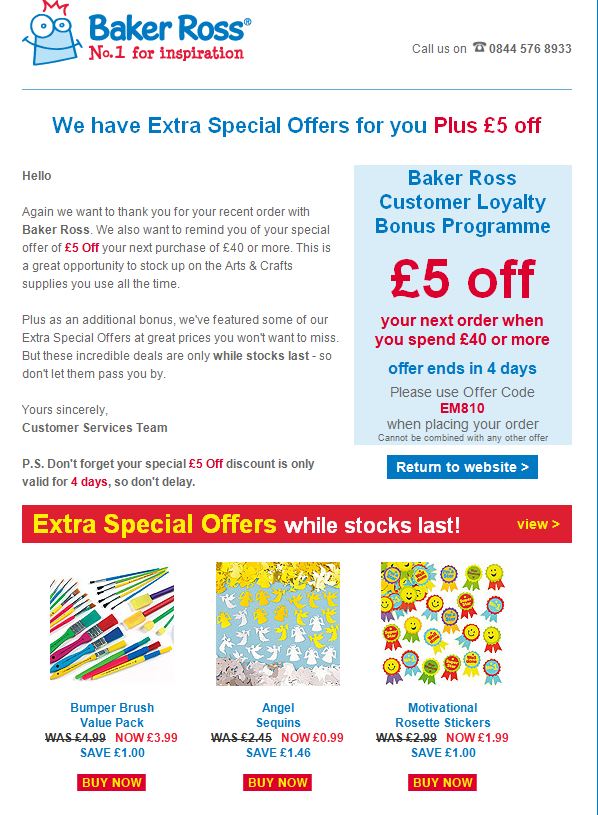 Basically, an automated follow-up email offering me a £5 saving if I made another purchase in 4 days (with a promo code), together with some relevant products (well, they seem in some away akin to the products I purchased to go in the party bags), but I can't tell whether they are actually manual associations or automated via merchandising. Anyway, the main point is the immediate follow-up and promotion (my original goods have not arrived) which would definitely be a strong recommendation.
Post by Roger Willcocks