We have just seen "How to choose an e-commerce provider" in Direct Commerce. "There are many companies offering to build websites at very low prices and these can provide a great start when first selling online, however, as your business grows, choosing a specialised e-commerce provider will mean that you get a combination of an ecommerce solution and access to specialised expertise and experience."
To help readers assess Screen Pages more accurately, we re-print the criteria and how we would respond here.
1. Does the potential ecommerce provider have a proven track record?
Screen Pages has pretty solid credentials in this respect. Trading since 1997, focussed on e-commmerce exclusively since 2002, the company has delivered and managed well over 300 e-commerce websites during that time. We are proud to have worked with many of the best known niche brands in the UK - including Fat Face, Joules, Thorntons, White Stuff, Hotter, Loake, Crew Clothing, Hush, Joseph Turner, Christopher Ward and many more. Nowadays, we are recognised as one of the most accomplished Magento agencies in the UK, having delivered over 30 projects since 2009.
Please see our current client list.
2. People matter, can you have a good relationship with the ecommerce provider? Is this someone you want to work with?
Screen Pages has a team of 20 and has a straight-forward, transparent and friendly culture. The business is run by "seasoned" professionals who have well over 50 years business experience in marketing, business development and general management. Whilst what we deliver is "technical", our approach is very marketing- & business-oriented. We have a passion for helping niche businesses expand online, but like to do things properly.
3. Does the ecommerce solution you are considering fit your needs now and in the foreseeable future?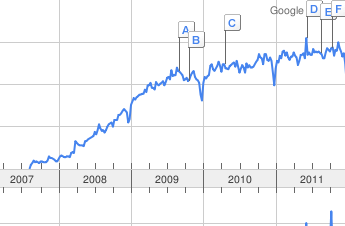 Searches for Magento in Google
Screen Pages uses Magento, one the most popular and fastest growing e-commerce platforms today. As well as a robust product feature-set and a continually evolving roadmap, Magento has a huge following of 3rd party developers who contribute with additional modules and extensions. Magento itself is extremely well capitalised which means significant access to R&D budgets - being owned by Ebay.
4. Can your e-commerce provider offer you an end-to-end solution?
Screen Pages provides a fully managed service, ideal for businesses without full IT resources or involvement in online activities. We design, build, integrate and host  as well as having a structured organisation & processes for ongoing assistance, support, website updates and extensions AND general e-commerce and marketing advice. The majority of our clients are integrated with popular back office systems such as Navision, Order Active, Khaos, Prima and many more.
Our end-to-end services are described here.
5. Have you checked the small print?
Magento is open source as well as licensed. This means you can take it with you or bring it in-house: data, images, code and all. Screen Pages will even allow you rights to any bespoke software it creates for you. For security, you can house the website in escrow (for example at the NCC) or we can make quarterly copies for you to store elsewhere.
In fact, Screen Pages takes on the management and update of Magento websites where clients need more support or are unhappy with the service they are receiving: it only takes 3-4 days to make the switch.
6. Consider performance-related payment options
We don't do this. We have tried it in the past, but there are too many variables involved: brand, pricing, service, delivery, marketing etc...It's fairer to be transparent about the time and effort, breaking it down in some detail and price your service accordingly, in discussion with the client - hopefully, if the brief is clear, on a fixed price basis.