Nanorep for Magento: automated customer self-service & FAQs
We recently met with the folk from Nanorep, an impressive online customer service hosted software application with a well-crafted Magento extension.
Nanorep is a "self-aware support system" that is capable of learning the answers to repetitive questions and updating its knowledge base software in real time. This innovative & automated software approach to self-service can dramatically improve the friendliness of e-commerce sites with resultant cost savings, increased conversion and improved customer satisfaction.
Nanorep widgets on any page allow to you to ask questions in self-service mode across multiple channels. There is no need to wait for responses from customer support agents – via email, telephone or forums. The responses provided by nanorep are instantly available and contextually correct - queried by "natural language" free-form questions/searches with responses driven by its clever search technology. Its knowledge base is "self-learning": it instantly updates with questions and answers and learns in real time what is statistically relevant. If answers are missing or don't hit the spot, you can enter answers directly through Nanorep's web-based console.
As a website customer - on the front-end - you can easily use the widget to find answers to all product-related queries on site. Because each customer that visits your e-commerce website is theoretically unique, individual responses are based on user type, product,location, technical specs, stock, care & maintenance etc. So, the answer to a question depends entirely on the context in which the question was asked.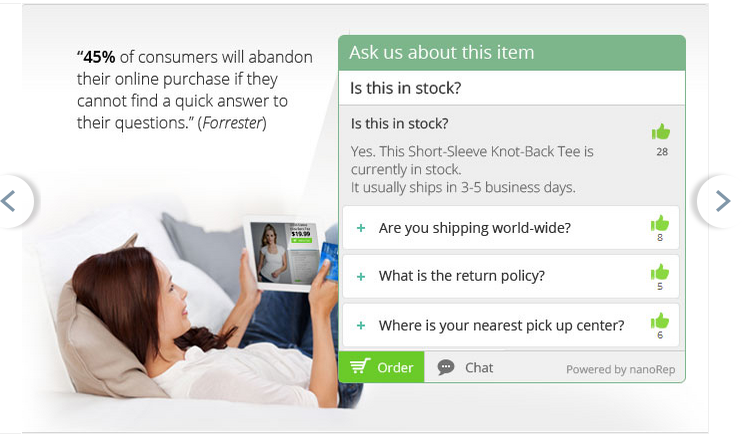 The Nanorep widget

Shoppers can ask any kind of question on any product page and get instant answers which help them to make up their mind. nanoRep addresses three specific types of question:
General questions
This does not refer to a specific product, nor to any action that the user may have taken. It is simply a general question -- maybe about your company, or the process of ordering something or about who the management are. The answers are automatically retrieved from the nanorep Q&A knowledge-base.
Contextual questions
These refer to a transaction (in general), either a product that has been bought or that is being considered to be for purchase. The answers are automatically retrieved from your Magento product catalogue data base.
Personalised questions
The personalized question refers to a specific transaction, such as an order placed, or a service which was disrupted or anything else that happens to the individual customer. The answers are automatically retrieved from your Magento database.
Consider the following questions: How much does shipping cost? Is this available in my area? What payment methods do you accept? Each of these questions requires a specific personal response. The cost of shipping is not uniform; it depends on the product, on availability, on geo-location, and even the user.
Question topics automatically retrieved from the Magento database include:
Orders statuses (status, purchase and shipping dates)
Recent purchases
Product ID
Product Category
Related Products
Back-on-stock date
Pricing
Product attributes (color, dimension, weight, etc.)
Product description
Bundled products
Cross-Sale products
Up-Sale products
Stock availability
Further, all nanorep self-service functions are available in multiple languages and is fully optimized for all mobile devices and smartphones.
The functionality of the Magento extension includes:
Automatically pulls personalized ordering information from the Magento database.
Automatically pulls products attributes information from the Magento product catalog.
Automatically installs the nanoRep widgets per product, as well as the API and back office.
Automatically installs an SEO-based knowledge-base for every product.
Shoppers can ask personalized questions about the status of their shipping, billing and orders, and get instant and accurate responses.
Shoppers can ask their questions in any of 64 different languages, and nanoRep will automatically provide translated answers.
The Nanorep module usefully includes analytics and reporting that show real time insights to the mind of the shopper: making it possible to know precisely how NanoRep has delivered value:
Merchants can see every question ever asked by their shoppers, filtered by product or category, and use this data to optimize the knowledge-base with more instant answers for essential information.
See which products get the highest number of attention by the shoppers with the highest level of shopper interest.
See the list of the last three questions that lead to every purchase.
See which products are being asked about most frequently.
Actionable BI that shows which products receive the highest number of unanswered questions, allowing you to optimize the knowledge-base, based on the most needed information and especially on the most relevant products / categories.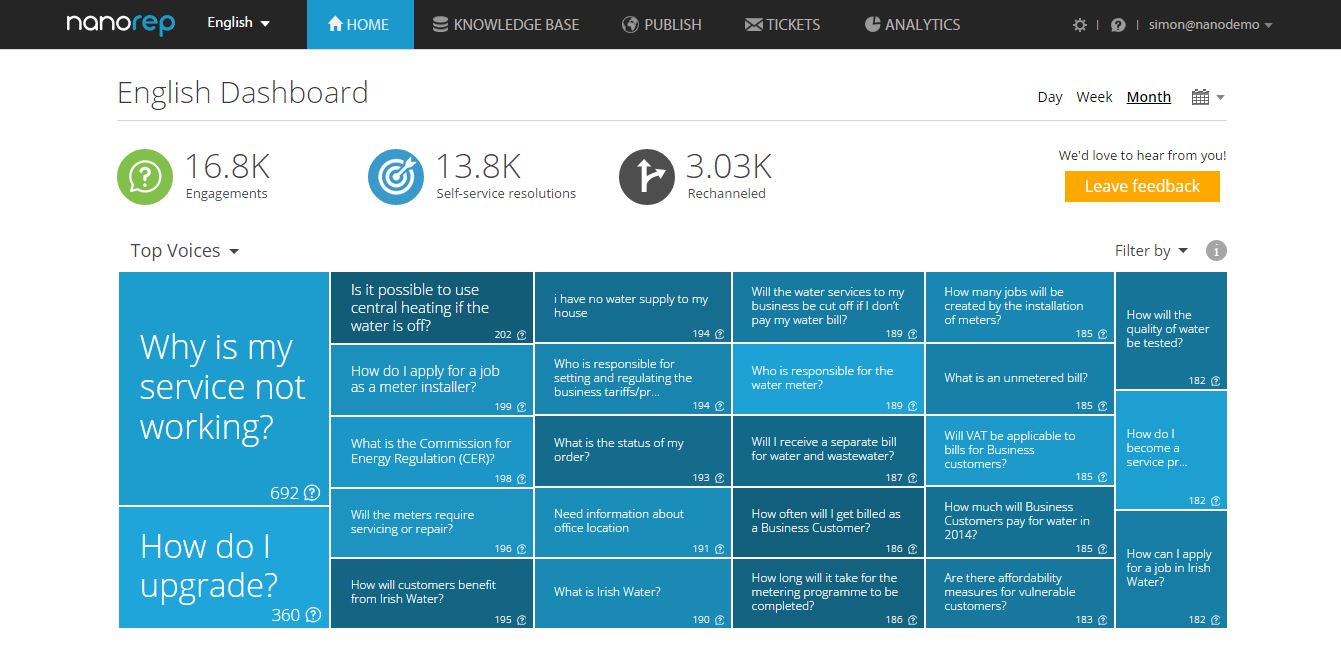 There's a great example on
Zaggora
, a Magento website.
For further information: