WHAT WE DO
We design, build, host and support bespoke eCommerce solutions for B2C and B2B merchants
We have a strong track record in designing and building integrated omnichannel solutions, allowing merchants to provide the right product and services at the right time and in the right place to their customers.
We can help you deliver a seemless and pain free end to end online shopping experience for your customers, from the beginning of their journey online through to order management and fulfilment.
We are experienced in mobile eCommerce and mobile POS solutions and have the certifications and qualifications needed to provide best practice advice in this field.
We are experienced in both B2C and B2B any have many reference sites across multiple verticles including Fashion, Lifestyle, Homewares and Manufacturing.
We take a long term view of our client relationships and provide dedicated account management, ongoing hand-holding and high level consultancy and support to help you grow online.
We run workshops to understand your brand assets & convert them into designs that sell well
We review your product range and categorisation, and marry this with how your customers browse, search & filter
We build your site using a "best practice", functionality rich and extensible eCommerce platform
We project manage your website project end-to-end to ensure on time and on budget delivery of a fully working, complete site
We ensure your site contains the right "keywords" in the right places, and give you full control over SEO on your site
We train you in how to manage and update your website, products, copy, promotions and business parameters
We provide ongoing hand-holding, advice and support – blending the commercial with marketing, technical, analytical and creative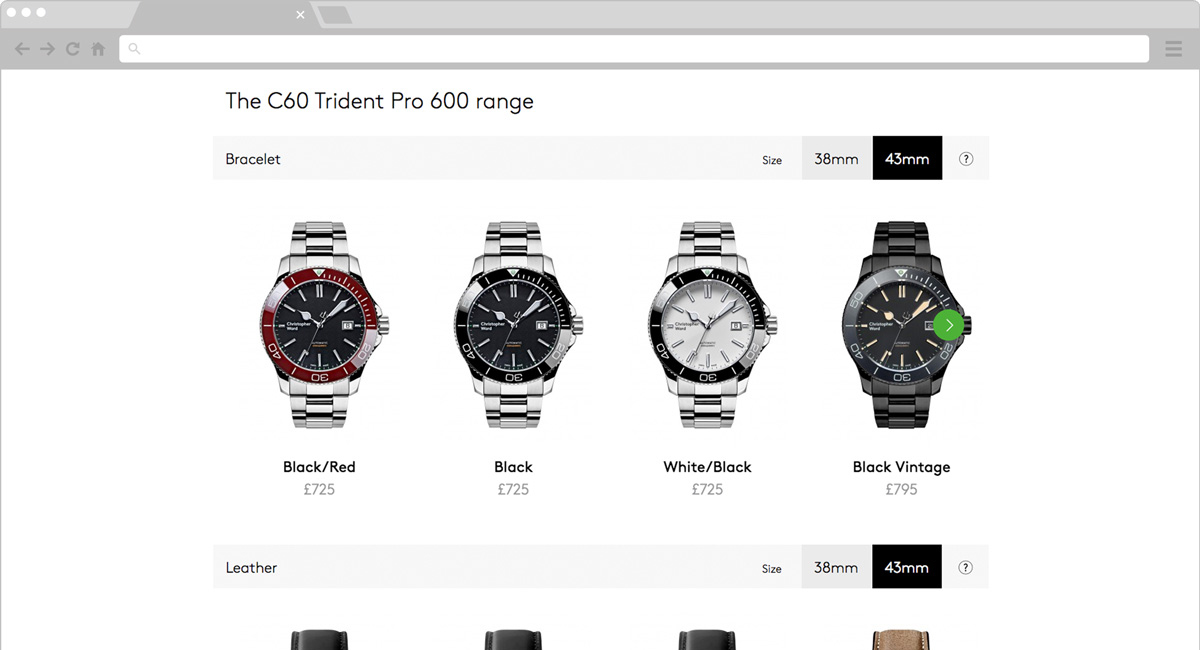 Use your site to promote and sell
Screen Pages has unparalleled expertise in making sure your products and services perform well in the search engines: we'll pretty much guarantee that they will all be listed automatically. In addition we ensure that your site makes the most of every opportunity to sell your range and increase your average order values by helping you set up featured products, what's new, sales, special offers, cross-sells and best-seller lists. 
These can be personalised to individual customers or groups of customers and predicted automatically based on previous user journeys, etc.  Furthermore, we can help you set up automated targeted marketing campaigns based on customer profiles to drive more traffic and improve conversions. We take the time to understand your products and customers and advise you on the best ways to proceed for your business.
Provide real service online
Using the website as a self-service tool can increase customer satisfaction and reduce your costs. Screen Pages' sites include a wide range of account and customer service features. These begin with storage of address, delivery and payment options, but can be extended to include saved baskets, order histories and wish-lists. When integrated with an order processing or fulfilment system, this can be extended to provide flexible delivery options and order tracking which can save an organisation tens of thousands of pounds in handling customer shipment queries. Make sure your customers can request catalogues online.
Keep the site fresh and up-to-date
Gone are the days when expensive technicians were required to update your products, image and site content. Screen Pages websites are delivered with an easy-to-use browser-based administration system for secure use by client marketing and administrative staff, called Business Desk. Business Desk enables the management of: Catalogues and navigation
Category and product info (description, images, pricing, cross-sells, inventory)
Content (static menus, text and images)
Campaigns (ads, discounts, emails)
Customer profile information
Simple tools are also provided for managing product information which puts your range across in the best possible light: categorisation, name and description, customer testimonials, images (of all sizes and with special effects), pricing and discounts, cross-sells/linked products and keywords.
Manage what you measure
Screen Pages provides an unparalleled range of analysis and management information reports. The reports provide tools to review all aspects of a website's visitor and sales activity by combining traditional site statistics (visitors, affiliates, search engines and keywords used), together with catalogue browsing, sales funnel, promotion, site search and product sales data. Reports are generated using Microsoft Excel Pivot Tables, which enable drill-down (e.g. by date or product categories), graphing, filtering (e.g. by offer code or customer profile), sorting (e.g. by value), breakdown by views, basket and orders, sales analysis by %, units and value, with exports to Excel for further analysis.
For information on how we process the data that you give us, please see our privacy policy.
4 The Courtyard, Wisley Lane, Surrey, GU23 6QL