Whilst Magento has established market leadership as an e-commerce platform capable of handling a wide range of B2C (business-to-consumer) requirements for online success, its ability to handle B2B (business-to-business) needs often goes unsung.
Why embrace B2B e-commerce?
Forecasts suggest that the B2B ecommerce market will be double the size of B2C. According to Econsultancy "by migrating B2B customers online, companies have seen a 44% increase in average order value and 38% of the B2B executives agreed that customers have spent more. In addition, half of the companies have reduced their acquisition costs and 52% have decreased their support costs. Perhaps most importantly, the more channels customers buy from, the more money they spend and the more loyal they are. In a time when companies are struggling to find growth in the traditional channels, this may well be the best way to stand out from competition and increase sales."
86% of companies in a study conducted for Internet Retailer by Forrester Research say they now sell online to customers who used to purchase from them only offline. The study shows that businesses are expanding in several ways how they reach customers through e-commerce: many are now selling online to customers who once only purchased offline through call centers or salespeople.
The main business drivers for B2B e-commerce therefore fall into two categories: efficiency and opportunity. Efficiency comes from making business transactions more easy and quicker, delivering the benefits of convenience, automation and integration. Opportunity is delivered by adding value, improving service, increased new business and embracing new sales channels such as mobile.
Having now worked on quite a few Magento B2B implementations (Elektron Technology, Watco, SnapOn, QC Supplies, Demco, Anixter, Aston & Fincher, Agar Scientific, Moss Europe and Optimas Components – as well as integrating trade purchase capabilites on several B2C e-commerce websites), we are able to set out some whys and hows for B2B e-commerce on Magento.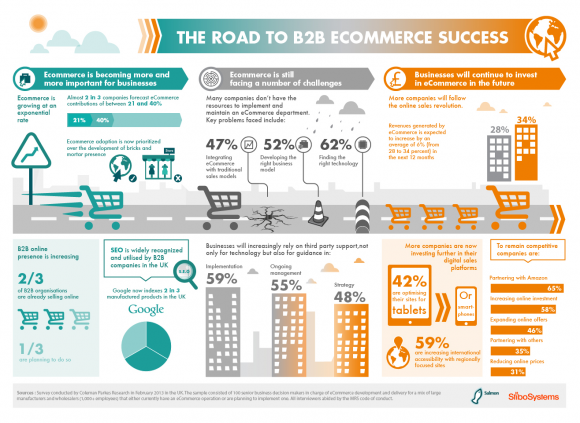 B2B e-commerce: key stats [source: Stibo Systems]
Basic e-commerce implementation in Magento
Let's start by looking at the e-commerce basics, including pricing, ordering and fulfilment and how they are implemented in Magento.
The golden rule is to set up your B2B website as a dedicated, separate store ("website" in Magento parlance). This enables you set up different catalogue data and content (including pricing, specific payment and delivery methods as well as offering different functionality and layouts). This is quite straightforwardly done in the Admin Panel (normally we'd allow a few days to set up and configure).
Important configuration tasks include:
import existing customer accounts, addresses, emails (& passwords if available). This is particularly pertinent if migrating from an existing website and you have the passwords.
establish the payment on account (or by invoice) payment method. A small customisation to the checkout would allow the capture of a purchase order (optional or mandatory).
restricted access to generic trade pricing can delivered by enabling Magento Enterprise's private sale functionality which requires a customer to login prior to accessing the website
VAT numbers can be captured (& validated) during the checkout process
It's worth spending more time on pricing. After the initial debate about whether to display prices or not (& or what version), you can set up different pricing regimes by a number of different tools – once logged in.
You can then use "catalogue price rules" to offer across-the-board discounts to specific customer groups; individual prices on a per product basis can be assigned to customer groups, as well as "tiered" pricing (volume-dependent pricing).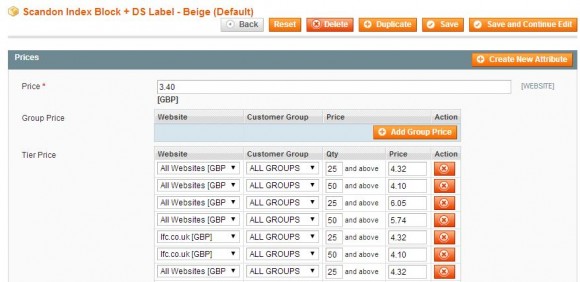 Setting up structured pricing for different customer groups in Magento
Magento also lends itself very well to international sales (with full local currency pricing or currency conversion), with the possibility of separate languages.
Improved fulfilment by automation integration
Integration is critical to the B2B process as most companies have sophisticated ERP or back office systems and the case for automation is compelling. Technically, this either involves conventional file transfer of XML or CSV data files (to an agreed frequency) or direct communication through an API (application programming interface) or Magento "connector". In most cases, the key is to export orders perhaps with other customer data) and to import stock and pricing. Generally, the critical part of such integration projects is the analysis, documentation and specification of the work flows/transactions associated with this, and then to ensure the bespoke development/integration work is delivered and tested as part of the project.
Magento has (generally) good tools and technology for this: Screen Pages has integrated Magento with well over 20 different back office/ERP systems. These range from SAP & Navision at one of the end spectrum to SME packages such BrightPearl as well as 3rd party fulfilment/warehouse management houses.
Additional B2B e-commerce transactional services
Once the basics have been covered, you look at providing a better service to your customers and adding to value to existing business processes. Common requirements in this category include:
Presenting your products in a way that is more attractive to trade buyers; for example, navigation and browse habits could be radically different. Conventional categorisation should be re-evaluated. For example, many buyers will order by part number or product code (a small customisation enables customers to add products to the basket by entry of multiple codes); catalogue buyers will use onsite search with these codes as well. A final touch is to customise the Magento "list" view (as opposed to the more popular "grid") or category pages
Many B2B customers will create the equivalent of "wishlists" (whatever language you use to describe such shopping lists) or more, they will ask for quotes which need submission and approval prior to order. We have implemented a 3rd party module (http://www.cart2quote.com) for handling this elegantly.
Repeat purchases are (mercifully) widespread in this world. Maximise the marketing and service potential offered by the "my orders" page and encourage customers to repeat orders with ease via this mechanism
Enhanced delivery options: offer your customers "nominated" delivery (where they pick their desired delivery date on a calendar): this can be assembled via a combination of popular extensions
Upload credit limits (with your account import as above) and implement balance checks and alerts in your checkouts (if required). Better, these limits can be fed through customer data integration
Trade account application forms may be appropriate for certain businesses: capture all the customer data you require before approving and creating the account. A simple form coupled with an email should accomplish this.
Valued-added customer service (& increased sales)
Many will feel that a (new) B2B e-commerce website presents the opportunity to offer a lot more to entice and persuade customers, as well as supporting their need for information.
Magento's content management approach (with rich content and media) allows you to integrate anything from case studies and testimonials, installation and training material to full video and "clickable catalogues". Integrating a blog on the website is an excellent way to deliver this extra material (and highlight it in customer communication such as email newsletters).
At the end of the day, businesses should be aware that whilst their customers are "at work, doing their jobs", they are also consumers and their reaction to websites is largely coloured by their usage and experience of popular B2C websites. Falling behind their expectations is a risk many will not want to take. Consequently, standard practices in B2C e-commerce such as a proper study of analytics, regular review of the user experience via usability tests and ever-important customer surveys will help you understand what works and what doesn't.

Mobile usage in B2B e-commerce: key stats [source: Scott Design]
Customer acquisition
A final attraction offered via B2B e-commerce is the chance to acquire new customers by not just a "better website" but by more effective use of "best practice" online marketing, including SEO and email marketing.
Magento has excellent SEO management, offering your precise control over the important assets that Google likes (page titles, meta data, URLs, links and, of course lots of relevant content): good positioning in the search engines could bring you more customers.
Finally, Magento has a number of partners who offer automated, personalised and targeted email automation (such as Dotmailer and Bronto), which would help your marketeers deliver structured, lifecycle email campaigns to your customers. The clever part here is the high-level of integration with your transactional and e-commerce data as these extensions exploit the Magento API.
A final note on mobile. Over the next 12 months, almost half (48%) of companies reported plans to add a mobile sales channel, and 25% are investing in online marketplaces. Clearly, mobile commerce appears to be the future of B2B selling for most (78%) companies. Magento – equipped with both mobile store and responsive capability – makes this transition easy.
Conclusion
All in all, with the predicted upswing in B2B e-commerce, Magento offers the right tools for reliably delivery a best pratice e-commerce channel, with desired functionality offered either out-of-the-box, via extensions or specific customisations for your environment.
Screen Pages' insight and experience with Magento and its implementation in a B2B world can help businesses gain competitive advantage by improved efficiency, better services and increased sales.