Amathus Drinks, the specialist drinks importer, has launched its first transactional website. The new e-commerce website has been designed and developed by Screen Pages, the e-commerce services company, using Magento.
Amathus Drinks, established in 1978, is a London based specialist drinks importer, distributor and brand management company. Its diverse selection ranges from branded champagnes, single domaine wines to the finest handcrafted spirits. Amathus' 1,000+ customers include Michelin star restaurants, luxury hotels and top bars & clubs. The company's turnover has tripled in the past 12 years and it seeks to double sales over the next period.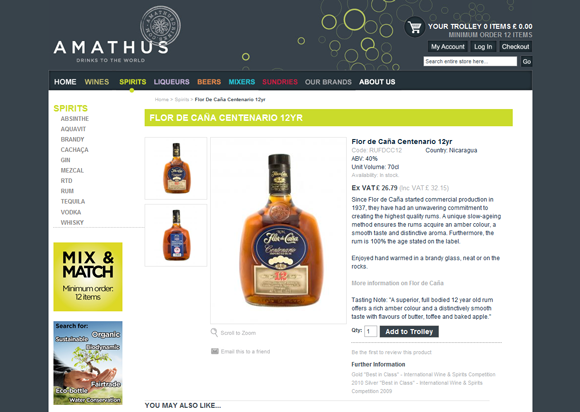 Its exclusive agency portfolio ranges from Old Rip Van Winkle bourbon; Flor de Caña's slow aged rums; Calle 23 tequila; Germana cachaça; Joseph Cartron's liqueurs, cremes and eaux-de-vie to the legendary Heering liqueurs, Van Wees genevers and the pioneering Payet and 1615 Piscos; Del Maguey, Foreveroax and Jaral de Berrio mezcals. It also boasts a fast evolving wine selection ranging from Moillard Burgundy, Castrijo Rioja, Idiom, Domaine Georges Michel, Bodegas Carelli, Caze Blanque and Louis Martin Grand Cru Champagne. Bulk purchasing enables us to offer very competitive pricing.
The new website's (at http://www.amathusdrinks.com) capabilities include:
- Clean, attractive website design
- Large, high-quality photography (with zooms)
- Filtered search (by region, price etc)
- Comprehensive tasting notes and wine/spirit guides
- Product reviews plus social media links
- Single page checkout with online card authorisation via Sagepay
- Implemented on popular Magento platform
- Full content management via Magento Administration Panel
The website will integrate with Amathus' Navision ERP system.
Harry Georgiou, owner of Amathus Drinks, said: "The Internet represents an exciting growth channel for us. Now we can attract a new tier of wholesale customers and eventually appeal directly to consumers. We appointed Screen Pages because of its track record in helping businesses accelerate their online sales and the professionalism and experience of its personnel."
Roger Willcocks, director of Screen Pages, said: "Amathus has grown very successfully through a direct sales force, backed by its commitment to quality and service. We are thrilled to be working with Amathus to support the next phase of its business growth, underpinned by the internet."