Capital Play, the leading independent retailer of play equipment and toys for children, has launched a new website and shop at http://www.capitalplay.co.uk. The new transactional website has been designed and developed by Screen Pages, the e-commerce agency, using Magento.
Capital Play was established in 2002 and set out in life as The Outdoor Toy Company. In 2011 the company changed its name to Capital Play, following investment from Paul Jameson after the sale of his previous business Mankind. Capital Play is now one of the largest retailers of quality outdoor toys and play equipment in the UK. The company sells a wide range of predominantly outdoor play equipment including trampolines, climbing frames, wheeled toys and other garden play products. Its brands include TP, Pukey, Home Front, Berg and Early Rider.
The company is currently offering free delivery as standard, next day delivery as well as collect in store and free onsite assembly on certain products.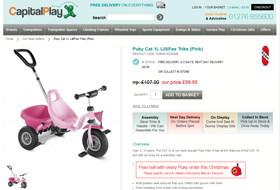 The new website's capabilities, developed in Magento, include:
-      Beautiful, simple creative design
-      Compelling and extensive product and lifestyle photography
-      Multi-layered navigation (mens/womens, activity, ranges)
-      Rich product information including assembly instructions, comparison charts, detailed descriptions
-      Product bundles and accessories
-      Widespread use of embedded video
-      Social media & community engagement (Facebook, Youtube & Twitter)
-      Reviews and testimonials
-      Rich promotional tools including money & percentage off, bundles prices, free gifts etc
-      Lifestyle blog featuring tips, recommendations and special offers
-      Sagepay for online and telephone orders
-      Single page checkout with online card authorisation via Sagepay
-      Full content management via Magento Administration Panel
Paul Jameson, director of Capital Play, said: "Capital Play is set now for significant online expansion, both in terms of marketing activity and product range. I've known Screen Pages since 2002 and have always been aware of its e-commerce credentials – now with its Magento experience, Screen Pages is a great partner as we grow Capital Play."
Roger Willcocks, director of Screen Pages, said: "Capital Play has a great opportunity: it has a strong presence in its existing markets and is now focused on expanding its range and reach backed by investment in capital and management. We are very excited to be working with the Jameson brothers."