Casall, the Scandinavian sports and "wellness" brand, has appointed Screen Pages to re-design, manage and host its Magento-based online shop at www.casall.com.
Casall was started as a fitness equipment company in 1980, adding high-performance and high quality "activewear" with an emphasis on fashionable styling in 1984. Since then, Casall has expanded into a "Total Wellness Lifestyle" brand now sold in over 18 countries around the world and it offers apparel and equipment for sports including fitness, running, golf, tennis, yoga/pilates and leisure. Casall is inspired by Scandinavian simplicity, freshness, sustainability and beauty.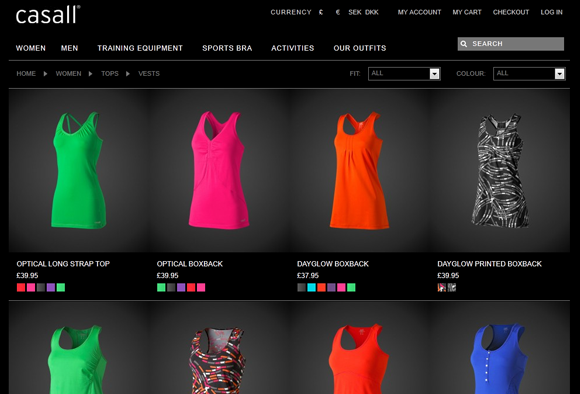 Casall's Magento website can now benefit from access to the resources, experience and proper support channels that Screen Pages offers, such as professional development standards, consideration for performance and scaleability as well as long-term attention to a client's needs for flexibility and ease of maintenance.
Screen Pages has invested in a professional, structured business based around Magento, and will provide Casall with e-commerce and digital services for ongoing website design, development, integration, hosting, support, updates, consulting, email marketing and account management.
The initial migration took just a few working days and a major re-design with work on additional currencies, improved navigation and filtering, better product pages including video and information tabs, basket and checkout page layout improvements already completed.
David Osmond, managing director of Casall UK, said: "Magento represents a great platform for niche retailers such as Casall. We like the flexibility and richness of the Magento platform, but need an e-commerce partner like Screen Pages with the experience, depth and structure to help us exploit it better and faster."
Roger Willcocks, director of Screen Pages, said: "We are delighted to be working with Casall on its e-commerce activities and look forward to partnering with its team to achieve great online success. We are seeing many companies jump on the Magento bandwagon, without the proper infrastructure, experience and resources and we are pleased to offer such services to online retailers who have chosen Magento."