Cocobay – Press release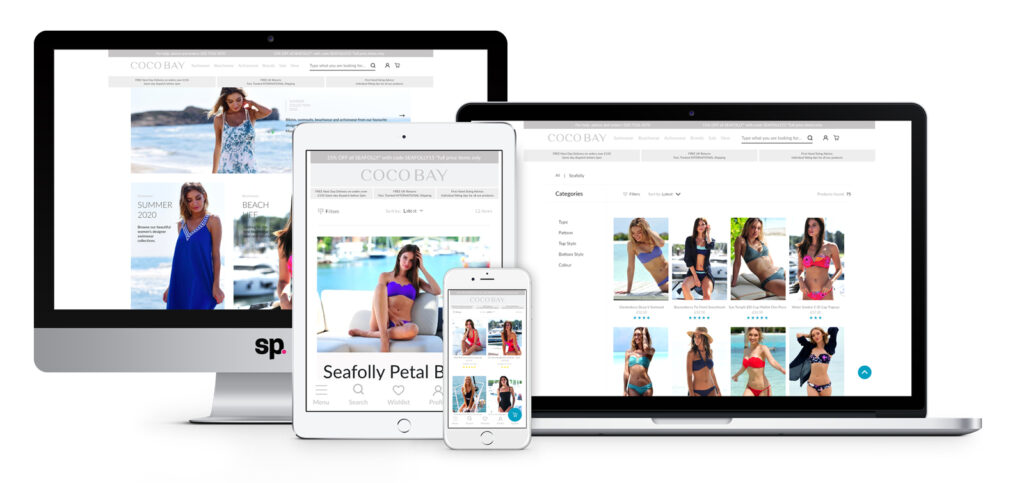 During 2020, leading online swimwear retailer Cocobay, made a decision to digitally transform their business in order to provide the best possible user experience for customers looking to buy carefully curated swimwear and beachwear online.
After consulting with Screen Pages, the decision was made to build the website as a Progressive Web App using Vuestorefront and Magento 2.
After months of hard work and dedication, we are pleased to introduce the brand new cocobay.co.uk website. The website has the below:
Integration with the Braintree payment gateway, which supports over 40 different payment methods, allowing Cocobay the ability to offer their customers the payment methods of their choice.
Customers also have the option of using Paypal express which improves conversion on mobile.
The site is integrated with dotdigital for digital personalised segmented marketing.
Customer reviews are provided by integration with Feefo.
Customers have the ability to purchase gift cards.
There is a built-in blog area for news and content.
The site is integrated with Royal Mail's 'Click and Drop' service for easy and convenient shipping.
Pre-ordering is supported on the site along with 'Back in stock' notifications for those all important swimwear sizing choices.
Improved returns handling.
Advanced Sales and Inventory Reporting.
Integrated Order Management.
The site was only launched on the 13th of July but since launch, conversions are up about 22%.
'We are so pleased with the result of our work with Screen Pages. Although it felt like a bold choice to use a new technology like Progressive Web Apps, we trusted Screen Pages to help us create a cutting-edge website for our customers. The results so far look promising and we cannot wait to see how much our customers enjoy this new experience.'
Belinda Robinson, CEO Cocobay