We recently looked at the work that dotMailer - the email marketing platform - had done with its Magento integration. In a word, we were very impressed: this is integrated, personalised, segmented, automated email marketing made Magento-easy.
We often struggle to distinguish between the popular email marketing systems - they all seem to say the same thing & half the features are not relevant for our kinds of clients and the marketing they pursue - although we have seen handsome returns for those who execute email marketing well. standards include: behavioural profiling, data segmentation, campaign management, personalisation, triggered campaigns, list management, split testing, online surveys etc.
But - for Magento customers - Dot Mailer has a killer capability: automated synchronisation of customer data with the email platform. Normally, this is a big challenge as clients either export customer; email data manually (without any segmentation/demographic data attached). Or a lot of time and money is invested in creating complex integration/export routines. Dot Mailer's Magento connector gives you freedom to automate email marketing based on any of the data available in Magento - all it takes is the installation & configuration of the module, which can be achieved literally in hours.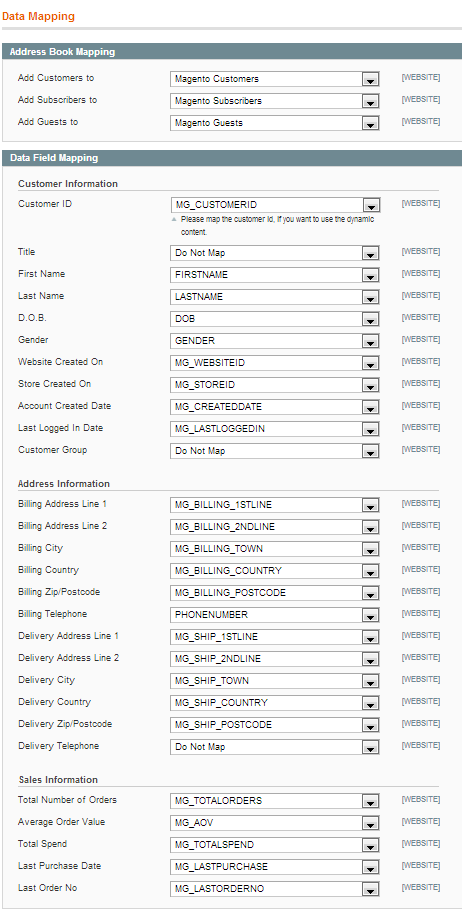 Mapping which data is synchronised with Magento
Customer data is easily mapped via the Admin Panel and includes all customer data (including customer group, address/location, created/last logged in/last purchased dates, AOV, spend to Date, number of orders). You can also synch all of your customers previous and future order information and their current basket contents & wish lists.
With these kinds of tools, all sorts of segmentation and marketing options present themselves:
- creating segments (e.g. new/best/worst/loyal customers, big/low spenders, geographic, product/category purchasers);
- automated campaigns (e.g. welcome series, post purchase feedback surveys, churn/retention programs, birthday/anniversary & basket abandonment campaigns).
For all these campaigns, we liked that you could use Magento's inbuilt related products, cross-sell and up-sell product recommendations to display recommended products based on the customer's previous purchases, also to insert bestsellers and most viewed into any email campaign dynamically.
Dot Mailer even boasts an SMS platform so you can send up to 4 different SMS notifications to customers based on an order status changing.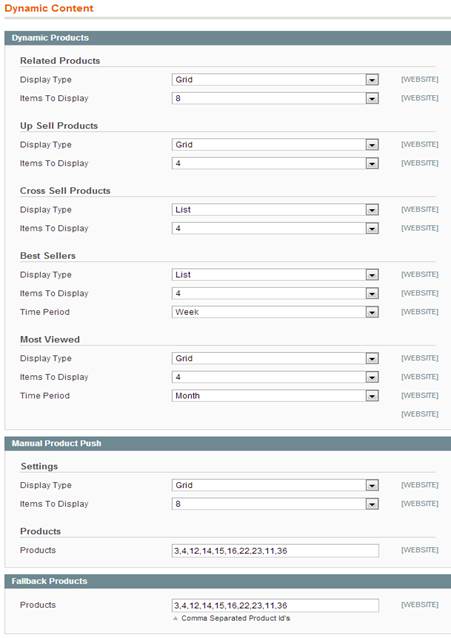 Selecting dynamic product content in Magento for your personalised emails
For the creation and design of emails, there is a studio toolkit style which gives the freedom to create & edit templates - although we imagine this should be pretty standard.
What makes this compelling is the easy and high level of integration with Magento customer, product and transactional data giving you powerful marketing tools at speed. All e-commerce folk know they should be doing this kind of email marketing: with this Magento/dotMailer combination, there's no excuse not to!
Recommendation: strong buy
For more information etc - visit dotMailer's Magento page.