Screen Pages was honoured to present the "Outstanding Contribution to E-commerce Award" at the E-commerce Expo Awards on the 2nd October 2012. These are the only awards of their kind in the UK, recognising and celebrating the companies that are driving the ecommerce industry forward in 2012.
The award was presented by Screen Pages' Director, Roger Willcocks, to Nick Robertson, Chief Executive Officer of Asos Plc. Asos is the UK's largest online-only fashion and beauty store at the prestigious E-commerce Expo awards ceremony in the City of London on October 2nd 2012.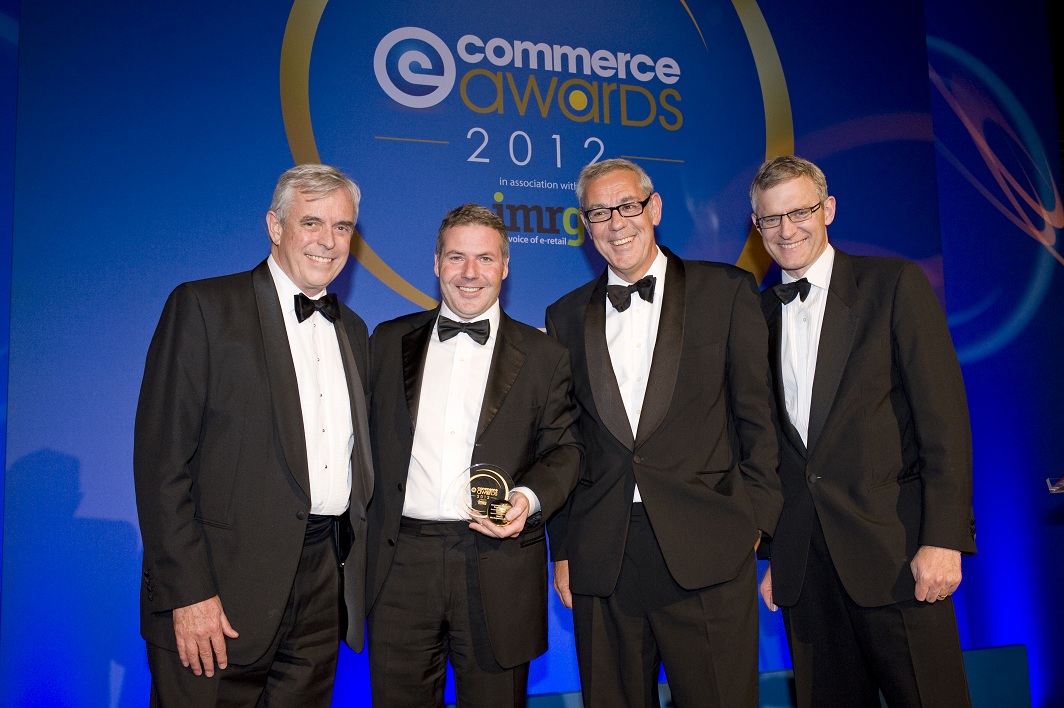 The award was presented by Screen Pages' director Roger Willcocks. In the photo (left to right): James Roper, Chairman IMRG; Nick Robertson, CEO, Asos; Roger Willcocks, Director, Screen Pages; Jeremy Vine, TV Broadcaster.
Asos was established in June 2000 by Nick Robertson & Quentin Griffiths. Nick Robertson left school after A-levels and worked as a media buyer until 1996, when he set up a business called Entertainment Marketing to place products in films and TV programmes. By 2000 he was running a website with Quentin detailing which products were used in movies and on TV. The business was called AsSeenOnScreen, and it was fashion that proved the biggest success. The product-placement operation was ditched in 2007. Asos now has  2000 employees and is the United Kingdom's largest independent online and fashion beauty retailer. Asos is now truly a giant in its sector and sets the pace for online fashion retailing and e-commerce in general.
Primarily aimed at 18–34 year old men and women, Asos sells both branded fashion goods and its own range of clothes. Asos now offers over 50,000 branded and own label product lines across womenswear, menswear, footwear, accessories, jewellery and beauty. Asos has websites targeting the UK, USA, France, Germany, Spain, Italy and Australia and also ships to over 190 other countries from its central distribution centre in the UK. 65% of Asos sales are outside the UK. In the past 12 months, 5m customers from more than 160 countries have shopped with Asos. Its aspiration of becoming the leading online fashion destination for 20-somethings globally and attaining £1bn of sales by 2015 is a very real and achievable ambition. Asos has proved that with a small amount of investment (£2.8m), the UK can produce world-beating companies in sectors where we have significant skills and pedigree.
ASOS recently announced total group revenues for the year to 31 August 2012 showing an impressive leap of 38 per cent to £538 million.
Screen Pages was thrilled to present this award to Nick Robertson. Having delivered best practice e-commerce services to niche retailers since 1997 and watched Asos evolve and grow exponentially over that period, Screen Pages' works with businesses on the earlier stages of their online trajectories for whom Asos would be a superb model. Many of Screen Pages' clients use Asos' website as a source of ideas and inspiration and Screen Pages' packages this kind of features, functionality and approach - writ small - into the websites it designs and builds.