Announcing the 6th E-commerce Forum 2015: 5th March
Online retailing is at an all time high: UK online sales exceed £100 billion in 2014 - that's over 24% of all retail. Many are enjoying growth rates in excess of 25% (against 2014 average growth of 14%), so smaller businesses need to be smarter than ever to compete and expand.
Niche brands need to work increasingly harder to acquire & retain customers against tough competition from global giants. Simply having a "nice website" is not enough: the winners must differentiate, add value & offer better service to survive.
To help you keep in touch with best practice e-commerce and industry trends, we would like to invite you to the E-commerce Forum (now in its 6th year), organised by DotMailer, Nosto, Peer1 & Screen Pages. It is a rare & focused opportunity for you to hear from a number of industry specialists & businesses and find out what works and what doesn't in the e-commerce world in 2015 - tailored specifically to the interests and issues that face niche brands and retailers selling online.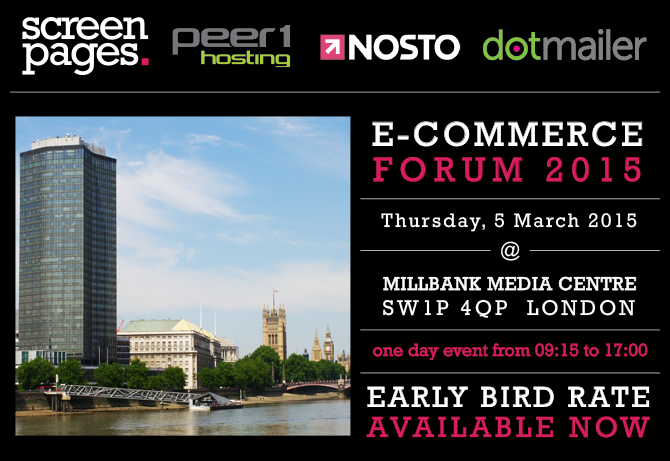 What will you hear?
The forum will concentrate on marketing, sales & service from an e-commerce best practice perspective - in particular how to increase sales, conversions and improve customer service. Key topics will include search, mobile, usability, content & email marketing & personalisation –backed by the latest advice, statistics & trends.

Who should attend?
For business owners, senior managers & marketers responsible for e-commerce in the retail, wholesale, mail order & direct sectors (both B2C & B2B), this event will help you understand:
- Latest industry trends and what the UK's leading e-retailers are doing
- Vital statistics in the online world
- Best practices and approaches in e-commerce
- What works (& what doesn't) in terms of online marketing
- Lessons from case studies & war stories from like-minded companies
- Successes (and failures) from panel discussions with experts & practitioners
And, of course, there will be plenty of opportunity for networking with your peers over food, drinks and refreshments (breakfast, buffet lunch, tea & coffee).
Speakers at the event will include:
David Lloyd, who has led Google's e-commerce initiatives and strategies in a number of sectors including fashion
Gary McDonald, head of marketing at Donald Russell, the leading online butcher
Chris Ward, MD and founder of Christopher Ward, the British-designed Swiss-made watch company
Dave Chaffey, the bestselling author, commentator & editor of Digital Marketing advice site SmartInsights.com
Tink Taylor, founder & COO of dotMailer, the email marketing provider, will reveal current best practice for automated, targeted, personalised email
Isaac Moshe, marketing director at Nosto, the personalised recommendation solution
Russell Simmonds, head of e-commerce at Peer1 Hosting
Jenny Homer, EMEA Magento partners manager at eBay, the fastest growing e-commerce software company
Matt Trimmer, managing director of ivantage, the digital & online marketing training services provider
Roger Willcocks, director at Screen Pages