Donald Russell launches mobile website
We have recently completed the launch of "mobile-optimised" websites for Donald Russell.
Based in Aberdeenshire, Scotland, Donald Russell, a royal warrant holder, is a pioneering mail order and online butcher with an acknowledged reputation for quality and customer service. Its range includes all the traditional cuts, including naturally reared beef, pork and lamb, now alongside more contemporary classics such as gourmet seafood, game and veal, as well as a range of desserts and chef made meals which offer the customer a gourmet dining experience in her own home.
Donald Russell is the leading online butcher and the mail order business uses retention marketing strategies such as catalogues and email marketing to develop its loyal and significant customer base. With over 35% of total traffic from targeted email, having a good customer experience with designs and contents suitable for small screens became increasingly important to deliver the right customer service. For example, traffic on mobiles from email marketing now converts at nearly three times traffic from other sources. Paypal - important for easy payment on mobiles - is now being as the payment method used for over 25% of all purchases.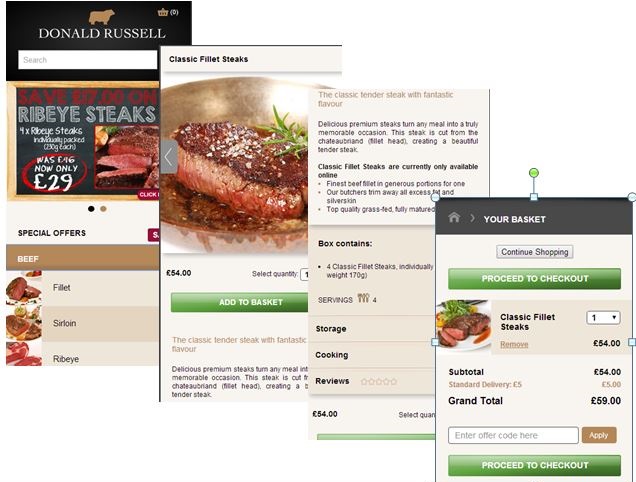 Donald Russell's mobile website
"Our mobile offering was becoming more important to us due to the cultural shift to use of mobile for email opening and general rowsing," commented Gary McDonald, Head of Marketing at Donald Russell. "Our whole web experience is driven from the customers' needs first, and it was clear that our mobile offering was letting down our overall customer experience. The new mobile-specific platform, designed with Screen Pages, along with our introduction of Paypal as a payment method, has massively improved the shopping experience and ensures the consistent delivery of Donald Russell content and quality across all platforms."
Donald Russell uses Magento Enterprise and the sites use a mobile-optimised HTML5 theme in conjunction with a separate mobile store.