The RSPB, the UK charity that speaks out for birds and wildlife, has re-platformed its online shop to Magento Enterprise. The site was launched at http://shopping.rspb.org.uk
The RSPB works for the conservation of wild birds, other wildlife and the places in which they live. Founded in 1891, the RSPB has over a million members, including more than 170,000 youth members, a staff of over 1,300 and more than 13,000 volunteers.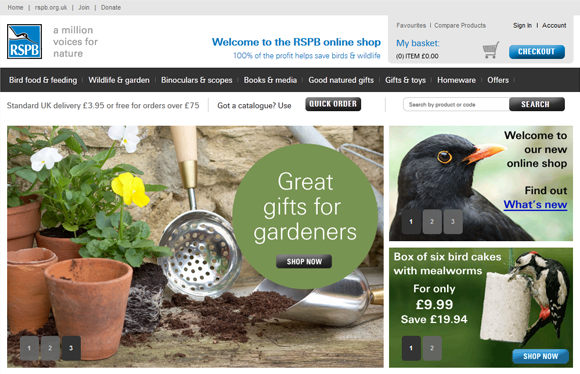 The new website was commissioned to improve the shopping experience for customers, provide new services and merchandising tools and to take advantage of latest e-commerce platform innovations. Its development was highly influenced by the RSPB's regular customer service survey, which identified the improvements that customers most wanted in the website.
Screen Pages has been managing the RSPB's online shop since 2008.
The new website's capabilities, developed in Magento Enterprise, include:
-      Improved image zoom and video content (using Vimeo)
-      Filtered navigation by type of food, price, gift recipient, etc
-      My favourites (for repeat buyers)
-      Product/feature comparisons
-      Product buying guides
-      Active social media integration with Twitter & Facebook
-      Quick order (for catalogue buyers)
-      Sophisticated delivery (including nominated days) options and promotional tools
-      Improved onsite SEO management
Devra O'Gara, Mail Order and E-commerce Manager, said: "We have been working with Screen Pages since 2009 and the performance of our online channel has steadily improved. Screen Pages has always provided a knowledgeable, reliable and professional service. Now, presented with rapid evolution in online marketing and technology and armed with substantial feedback and analysis from our customers, we are keen to exploit the opportunities provided by our new e-commerce platform."
Roger Willcocks, director of Screen Pages, said: "The RSPB is one of the most respected and loved charitable institutions in the country. Over the past few years, the e-commerce team at RSPB has delivered a steady programme of constant improvements to increase online sales and customer service: we're delighted to be working with it on a next generation website based on Magento."