Shima Uma has launched its first transactional website to market and sell its office supplies ranges. The new e-commerce website has been designed and developed by Screen Pages, the e-commerce services company, using Magento.
Shima Uma is a consumer brand operated by QC Supplies, a UK based reseller of printer supplies, hardware and office products. Based in Halifax, West Yorkshire, QC delivers next day nationwide to homes, businesses and schools. Popular brands carried by Shima Uma include HP, Epson, Canon, Brother, Samsung, Dell, Kyocera, Lexmark, Belkin and Logitech plus many more. Shima Uma products have until recently only been available on Amazon – now it's customers will have access to a wider range of products and accessories via its own branded website.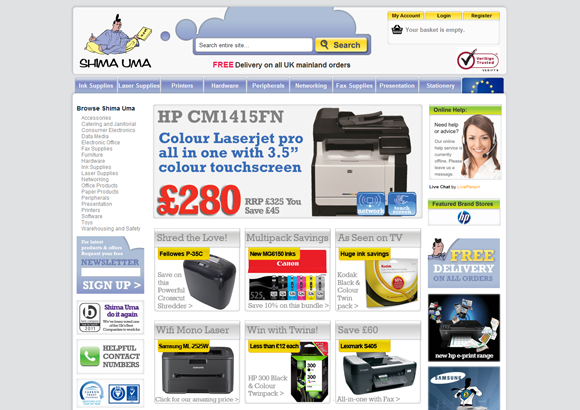 The new website's capabilities include:
- Clean, attractive website design
- Filtered search (by brand, price etc)
- Comprehensive product descriptions from ICECat
- Product reviews
- Live chat
- Single page checkout with online card authorisation via Sagepay, as well as Paypal Express and Google Checkout payment methods.
- Implemented on popular Magento platform
- Integration with QC Supplies AS/400 ERP system for product & stock data and order processing
- Full content management via Magento Administration Panel
A French and German version of the website are under development.
Richard Degnan, Ecommerce Manager at QC Supplies, said: "QC has already successfully embraced the internet for its B2B marketing activities. Now, we want to develop our consumer brands online. We partnered with Screen Pages because of its long-standing commitment to best practice e-commerce in the B2C arena as well as the friendly, open culture of its people."
Roger Willcocks, director of Screen Pages, said: "We've known the folk at QC for a long time and it's a pleasure to work with them on this exciting initiative. QC has grown successfully and fast through great service and effective execution: now it can exploit new sales and service channels via the internet."