Temando's shipping extension for Magento streamlines shipping & increases conversions
Industry statistics show that merchants are struggling to manage their logistics options with approximately 48% of the online shoppers abandoning purchases at the checkout due to the lack of delivery options offered and unforeseen costs. Furthermore, 40% of online shoppers demand free delivery or at least better fulfilment transparency.
Recently, we met with the team from Temando which offers a Magento module that can help with these challenges. According to Temando, it provides an "integrated, comprehensive end-to-end fulfilment solution for online retailers that facilitates a flexible shipping experience for customers in the shopping cart and optimizes the shipping processes for retailers using multiple carriers or transportation services."
Temando is built natively into the dashboard of Magento and enables the online retailers to manage the delivery logic behind their orders from one single location. Its key capabilities include:
Connect to multiple carriers and carrier services
Apply shipping rules
Display a shipping calculator in product and/or checkout pages to get dynamic delivery options
Enable pick, pack and dispatch from any warehouse or retail store
Batch-book deliveries (up to thousands at a time)
Generate shipping documents (labels, manifests…) instantly and in line with the chosen carriers' requirements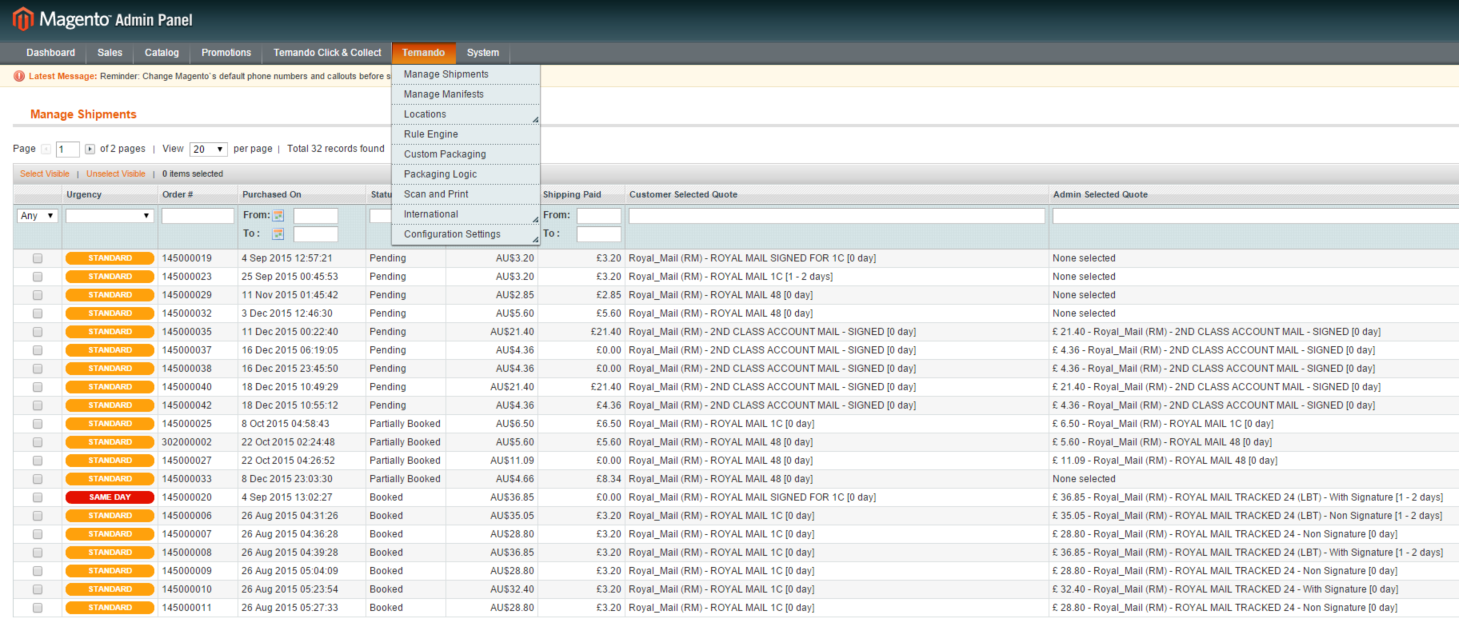 The managed shipment grid displays all pending shipments against the selected delivery service as defined by predefined rules. From this grid you can batch-book shipments, print labels, print pick-slips and amend delivery methods.
Once you have installed/implemented Temando, you will have access your carriers' services available in the Magento dashboard. There is no longer a need to integrate each delivery service separately: all national and international carriers' services are accessible via Temando. If you have negotiated rates with specific carriers, those can easily be uploaded on the platform.
In addition to standard, express or "PUDO" (pick up drop off) delivery options that merchants offer their customers, you can also use your own stores & warehouses as collection points and propose free shipping while directing customers to physical points of sales.
Another interesting piece of functionality is "contextual" shipping logic which reflects the shipping rules that the online retailer can easily configure in the Magento dashboard. Based on different attributes such as the number of articles in the basket, basket value, the types of SKU selected or the location of the customer, the merchant will have the ability to specify which shipping services are offered in the checkout, create rules to display only the fastest or cheapest rates, define how you want to charge the shipping rates to the client (free shipping, discounted shipping etc) and when the shipping rules apply (eg. 4 weeks before Christmas). By providing delivery flexibility you are able to turn the shipping into a marketing tool, enabling a better customer experience & increased conversion rate.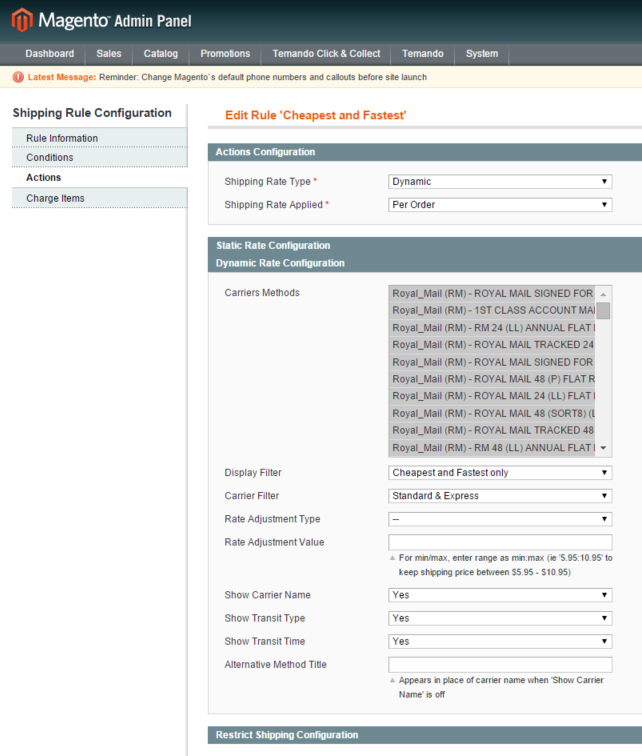 From the Rules Engine screen you can customize shipping preferences and rules against various criteria; weight, location, SKU attributes etc. These rules will then apply to live delivery quotations displayed on the website and delivery choices made in the Managed Shipments Grid.
In addition, Temando has also other useful functionality enabling you to optimize other shipping processes by:
Selecting the most relevant packaging type based on the actual articles selected by the customer
Selling & shipping from anywhere with multi-location fulfilment and omni-channel functionality such as ship-from-store and click & collect.
Routing orders to the nearest fulfilment point by connecting inventory data and automatically shipping from the nearest location with available stock