Screen Pages has released a study on the headline performance of its clients where it has year-on-year traffic & sales data, to examine how these niche brands have performed in the first two weeks of December.
The data collected is for the period 1st December to 15th December (inclusive) for 2011 and 2012 and is taken from 18 businesses including Bella di Notte, Christopher Ward, Finisterre, Hush, Loake, Marie Chantal, Profile Fashion, The Real Flower Company, This Works and the online shops of the British Heart Foundation, Cancer Research UK, the RSPB, Kew Gardens and Historic Royal Palaces. The businesses are generally niche brands and the data covers the activity of over half a million shoppers spending several million pounds in the 15 day period in 2012.
All the businesses are running Magento websites: thus, the websites have similar navigation, search and importantly, checkouts – but each has bespoke design & layout with different promotional and fulfilment propositions.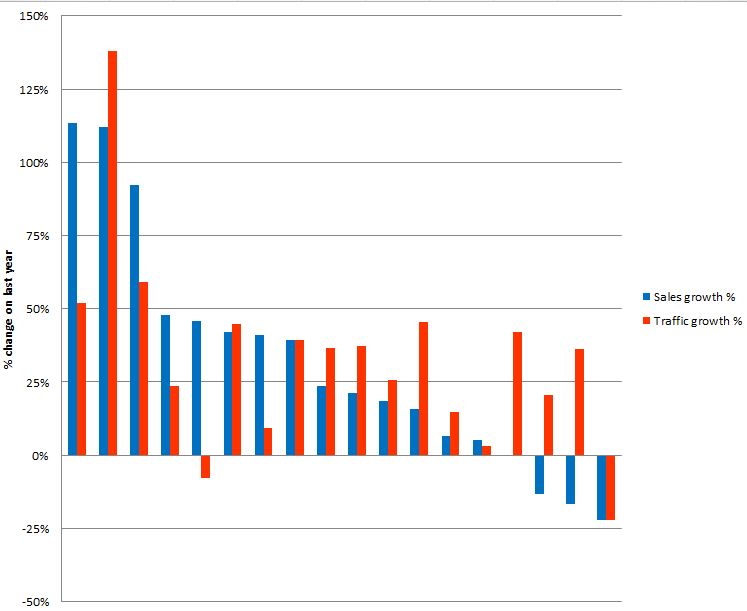 Chart shows the sales and traffic increases for each website. Most of the sales growth comes from traffic increases (in RED).
* The average sales growth was 32%. Two businesses showed over 100% growth.
* Over one third showed sales growth of 40%+ (on a par with the figures that John Lewis reported for the same period).
* Four online operations showed negative growth: although the businesses involved changes in management, strategy, fulfilment and overall online focus.
* Visitor numbers were also up by 33%. All but two enjoyed increased traffic.
* The data shows that sales increases are  driven by traffic increases: 66% had traffic percentage increases which met or exceeded sales percent increases: 1 retailer increased conversions by 47% on decreased traffic with a net sales increase of 46%.
* Conversion rates overall were up by 0.77%, averaging 4.34% in the period. Conversion rates spread from 0.45% to 10.3%, and 56% were above the industry norm of 3%.
* iPads emerged as a shopping tool of choice, making up 13.4% of all visits. iPhones constituted 7.4% of all traffic on average.

"What's interesting about this data is that the website as a platform is taken out of the equation – they all use Magento. It's clear that some businesses have a strong Christmas business and gifting programme, with appropriate product and relevant marketing and promotional activity to support it.
This is nothing new and is largely down to effective planning, good management and attention to detail. Sound businesses should be achieving a minimum 25% sales growth online.
We are pleased because its Screen Pages' purpose to deliver professional, reliable Magento implementations which provide retailers with the platform and tools to grow their businesses online effectively."