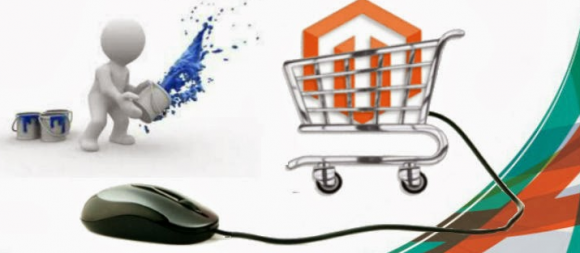 We are often asked why we do not use pre-built "themes" for Magento implementations. Surely it would be quicker and cheaper? For those in the dark, a "theme" is a set of pre-packaged files that customise the layout, design and in some cases the functionality of a website. To quote WordPress: "themes are files that work together to create the design and functionality of a […] site. Each Theme may be different, offering many choices for site owners to instantly change their website look."
Simplistically, the advantages seem wonderful:
They are often free or very cheap
Implementation is very quick: simply download it and install
They already work (well, provided you are using standard Magento, out of the box)
Magento themes and designs seem too good to be true; they are moderately priced, responsive, and usually offer some type of global customization (such as control over colours and fonts)
There's a dazzling and confusing array of websites that offer pre-designed Magento Themes. However, these themes may not be the best fit for you, and can actually cost you more in the long run.  There are, for sure, a lot of poor quality themes out there – even those that have sold 1000s of copies.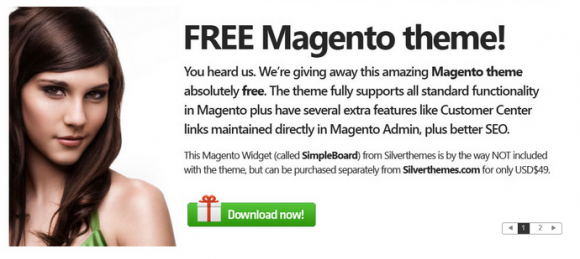 At Screen Pages, we are in the business of designing "bespoke" websites which reflect the brand, product range, marketing and promotional activity, fulfilment and customer service of a business – exactly. This inevitably involves careful and creative thought, analysis, planning and – critically – customisation. There are no technical reasons that we don't use themes: in every project, our design team works very closely with the development team to ensure that the end product will be one cohesive site, rather than it feeling like a design was forced into place and the inevitable compromises that would bring. The ability to customise an e-commerce website in whatever way required is in fact one of the biggest advantages of Magento itself.
Themes and "customisation"
Themes rarely account for any customization you may require, or want to add in the future – as your online trade evolves and grows. Most themes are based around standard "out-of-the-box" Magento and only style the main Magento pages (home page, category page, basket, check-out and account pages). It would be a miracle if they worked on any additional or bespoke pages you have (e.g. catalogue requests, store locators etc). An area of particular sensitivity would be any customisation in the checkout process.
Generally, a Magento theme will not take into consideration any customisation or unique functionality, which could include visual/display needs (product information/representation, sliders, JavaScript effects) or other product pricing, grouping/fulfilment options.
Most Magento websites we deploy may use at least 5-10 third party modules/extensions: complications may arise with the compatibility of 3rd party modules. It is often one of our biggest challenges to get individual third party modules to function, operate and perform together, let alone entire designs.
Themes and the development process
When we work, our custom designs are given to trained, managed (& Magento-certified) developers with all of the imagery, CSS styles and layouts needed to create the front-end website code (CSS sprites & SCSS where required) and to provide a visual reference for the development process. Recreating this from an off-the-shelf theme would be time-consuming. Similarly we are quickly able to create new elements (and customise those designs) that match the original design.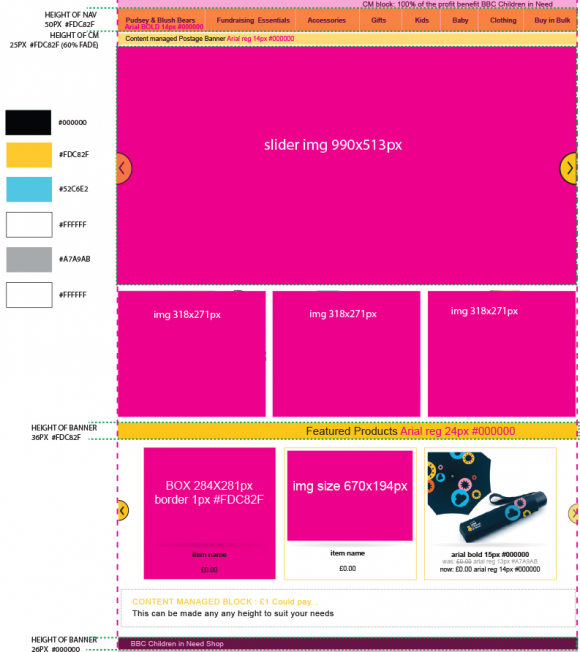 Example of detailed design deliverables, for custom design development
As a professional (and certified) Magento partner and developer, perhaps one of the biggest concerns we have about building a significant, commercially sensitive e-commerce website using third-party software is around warranty, liability and overall quality control. When we buy and install a third party extension, we have no idea about the underlying code that makes up the theme. It is a real possibility that by installing these themes, we would "corrupt" a Magento website with code that may not been well written, audited, documented or worse, could even pose a security risk. There is a general inability to check the quality of the underlying templates and CSS & supporting Javascript prior to use in order to de-risk the initiative.
Themes could only ever serve as a base to a "mature" website: we are 99% certain that no theme will match any clients' requirements in entirety and we would quickly sink into the realms of uncertainty: our current design and specification process is aimed at taking the questionable unknowns out of a project scope, so that we can offer a contractually-bound fixed price project fee with the highest levels of warranty, backed by high service levels and a quality ongoing support and update process.
Themes and ongoing support & development
Finally, when Screen Pages designs and implements a custom design for a client, you will have access to all the underlying design files so that should a change need to be made, everything will be readily available, filed and stored in a professional repository and software version control system.
Some clients will also be concerned by intellectual property rights: Screen Pages contracts to give the intellectual property of the entire website and design to the client – if a theme were used, there may be restrictions in this regard.
Nothing is constant but change. You will want to make modifications.  There might be no or little support and once any form of customisation, change or update has been made, it is difficult to decipher where the buck (liability to fix) may stop. Magento itself introduces changes: some theme providers might not be able to keep up with Magento's development.  As your website trades, you will be studying its performance with a view to optimising conversions by analysing customer journeys (through analytics, usabiity studies or customer surveys). It is a given that this will drive constant (but generally minor) change: conversion rate optimization usually depends on your marketing, customers, product and overall messaging & proposition – you will wish to have freedom to make enhancements without risk or compromise.
Having a custom website built and supported by a properly capitalised, well-structured organisation will give you the peace of mind knowing that your Magento implementation will accommodate everything (and we mean everything) you want now and in the future.
Summary
Screen Pages designs and builds custom e-commerce websites that reflect and amplify uniquely and absolutely a business' brand, product range, proposition and marketing activity. Themes do not do this
As professional and certified developers, we would be concerned about code quality, extensibility and maintainability of a theme
Where any form of customisation is required (& there generally is for our kinds of clients), there is a potential for risk
As a retailer, you will want intellectual property, warranties and high service levels – in practice as well as contractually
Our design and specification process is designed to remove uncertainty – not introduce it (in a fixed price project with a clear milestones).