We recently received a briefing from Nosto regarding its personalisation & recommendation engine for targeted marketing.
We liked the software: its benefits are clear, there are plenty of case studies, the pricing model is "appropriate" for our kinds of clients who are working off modest budgets and importantly for us - it has well constructed Magento integration and is easy for clients to manage.
The theory with these kinds of products is that a recommendation engine will transforms online shops from one-size-fits-all offerings to relevant, personalized experiences, updated dynamically and in real-time. To do this, Nosto tracks visitor behavior across the site ienabling you to tailor shopping experiences with automatic product recommendations based on individual behavioral data. Thus, when a visitor returns to your site, Nosto displays products she considered previously but have not yet bought, helping her continue their shopping and increasing conversion. Alternatively, the site can sell additional products by showing visitors what other customers have viewed, searched for and bought.
Nosto's marketing video
Usefully, Nosto also has a trigger email capability. It detects if a customer has not visited your store for a while and inspires them to return to the store with a "We Miss You" email containing relevant product recommendations based on their previous behavior. You can send customers automatic follow-up emails after they have received their order, recommending products related to what they have just bought and enticing them to continue shopping with you.(This could save a retailer money - because other extensions would not be required.)
Nosto offers over 30 different recommendation types, including personalised merchandising, cross-sell and up-sell, best sellers, search, landing page recommendations : you can also modify recommendation types and settings.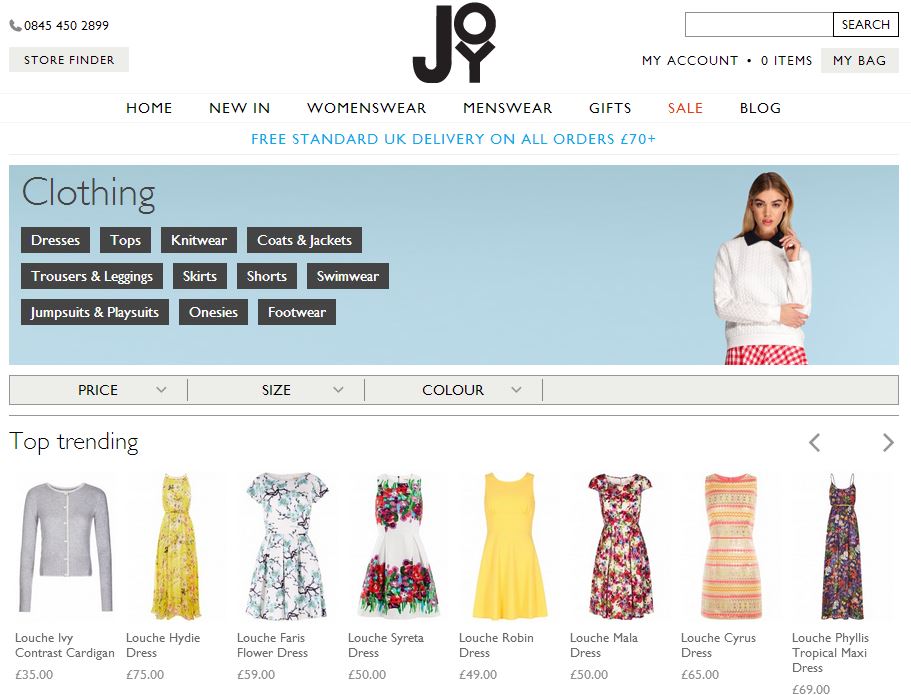 Nosto's suggested placement of recommendations on Joy's category page
As well as the conversion uplift potential offered by Nosto (& some of the case studies are fairly impressive), we are always aware of the time (& difficulty) of automating cross-sells and up-sells: imagine hand-populating these for hundreds and thousands of products.
We also liked the Nosto dashboard, which presents a real-time view of what visitors are doing on the website across the board.
Essentially, the process of implementation and integration involves downloading the Magento module, connecting to the Nosto service, adding page tracking to the various page types in Magento, then creating Nosto recommendation templates in Magento content areas and adding individual "recommendation slots" to them.
Regarding pricing, Nosto operates either an overall revenue share or a "click-thru and buy".
Further material
Nosto website )(main website)
Nosto Academy (good material for marketeers on what it is & how to use it)
Joy case study (worth a read)