We attended Magento Live in late October 2013, the UK's annual update from Magento (now Ebay) senior management. There was a great crowd of merchants, partners and Magento/Ebayers present.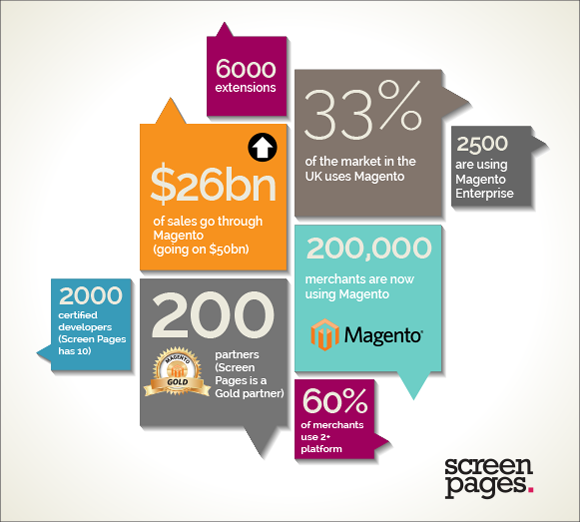 Belatedly, here are our notes from the chief Magento presentations.
There is a huge momentum in the market. First the big statistics:
33% of the market in the UK uses Magento
200,000 merchants are now using Magento
2,500 are using Magento Enterprise
$26bn of sales go through Magento (going on $50bn)
6000 extensions
2000 certified developers (Screen Pages has 10)
200 partners (Screen Pages is a Gold partner)
60% of merchants use 2+ platform
Magento is still searched for in search engines more than ecommerce and its website had 13m visitors in 2013.
Magento's market focus is on businesses with sales of on $5-$50m online (of which there are 30,470) - Gartner & Forrester agree Magento has a 5.6% share of this segment already. As regards the Partner rogramme, Magento's new leadership team is focussed on establishing the right framework for mutual success - it's now $1bn services ecosystem worldwide.
The eminent Forrester research organisation conducted a detailed analysis of the financial costs and returns of a $40m retailer that had implemented Magento Entyerprise: "Overall, we found that Magento Enterprise provided the interviewed merchants with a stable, scalable, flexible platform that contributed to their incremental online revenue growth." The business studied in the report showed a 5.8 month payback on its investment. You can freely download the full Forrester report here.
In terms of the product itself, Magento 1.13 is now in full general availability (We have already used it on the Micro-Scooters website, one of its featured customers). The main advantage is optimised indexing, improved caching and checkout performance (some 33% faster).
Plans for Magento Enterprise version 1.13.2, currently pencilled in for April 2014, include further performance & scale; a built-in responsive design/web store, better tax handling and an update to the SOLR search implementation. On the subject of Magento 2, there remains no concrete release date, but it was confirmed that it will boast an updated technology stack (HTML 5/CSS3/Jquery, making for a superior development experience, with separation of presentation layer, core functional modules & APIs. It will also have an improved business user experience and a better native customer experience.
Community Edition however continues to remain an important focus.
Magento has gone to the trouble of analysing (via exit interviews) why some (a few, one assumes) do not continue to use Magento. The study shows that the most frequent reason for leaving Magento - failure to invest.