Breakfast Briefing 13 June 2023
Tuesday 13th June 2023, on a warm and sunny morning, saw us host a very long overdue Breakfast Briefing event at our partner Dotdigital's stunning London Bridge offices.
We kicked off just after 9am where we had a mix of our clients, partners and associated guests who took their seats with breakfast croissants, pastries and refreshments in hand. Our CEO Sarah started the event by welcoming the attendees and sharing an insightful presentation entitled Mobile Commerce is exploding - are you ready?
Her presentation included interesting stats, case studies, thoughts and recommendations on how merchants can bridge the conversion gap between mobile and desktop, including UX improvements and considerations around apps versus progressive web apps.
Next up Will Donaghy from Klevu took the stand covering An Expert Level Review of the Mobile Search and Product Discovery Experience, demonstrating how best to approach this customer journey experience.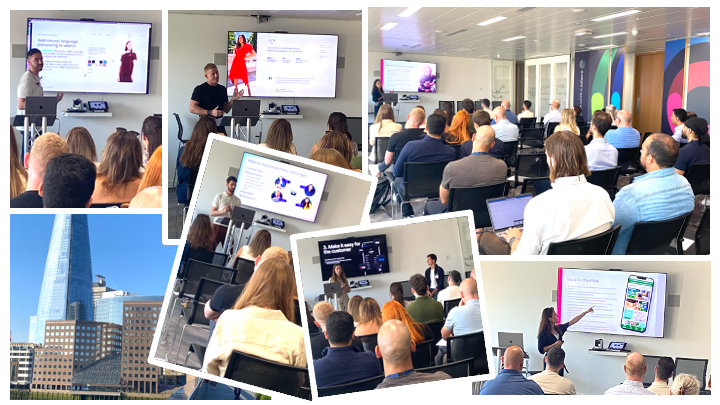 Mollie, our new payment partner, discussed Growing eCommerce through Mobile Commerce. Emilia Swiecicka and Josh Gutherie presented 5 key steps on how to optimise for mobile in the checkout.
After a brief refreshment break and the chance to stock up with more pastries and fruit, our host and partner Dotdigital took to the stand. Niels Kolijn compellingly explained why data is king and how to get the best results from your email marketing campaigns by using the data in smart and savvy ways to achieve those all important results.
To round off the morning, Yotpo's Matt Brindley shared his presentation on Using SMS to close the Convenience Gap and Increase Conversion. He was armed with an impressive range of stats prompting many questions from the audience.
To wrap up the presentations, all co-sponsors led a Q&A and wrap up panel with summaries and insights led by the highly engaged audience.
The morning's event was long overdue and the next one for mid September is now being planned. More information about this will be announced in the coming weeks.
Access the presentations: